January 26, 2023
---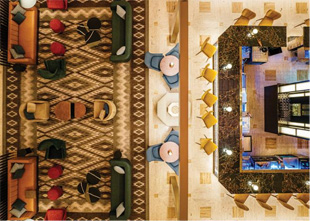 2023 rd+d Award Winners
Here are the fabulous, functional designs judged to be among the best of the best in restaurant development + design's annual contest.
bite-sized buzz
A roundup of interesting bits of news that came across the editor's desk in the last month, including a bunch of international development deals and more.
Paying Homage to a Boston Landmark
A renovation at this historic Boston landmark led to a moody hotel bar that was inspired by the classic 1920s gentleman's club.
Tous les Jours Opens in New Markets
French-Asian bakery-cafe chain Tous les Jours has three new locations in three new markets.
How to Grow with Grab-and-Go
The addition of offering grab-and-go items — even in unexpected market segments like fine dining — can drive sales and expand branding opportunities.
Subscribe to more e-newsletters!
You received this e-mail as a subscriber to restaurant development + design or one of its e-newsletters.

Please direct advertising questions to:
Maureen Slocum, Publisher.

Rebecca Kilbreath, Editor in Chief.

Subscription Support:
630-739-0900 (ext. 53) or e-mail Julie Pesek