July 14, 2022
---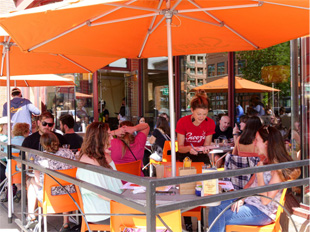 Best Practices for Designing a Patio
Patios have always been a good revenue generator, with customers clamoring to sit outside on sunny days. And, thanks to COVID-19, customers have become more willing to bear chillier days, too.
Wing Zone Opens Nevada Flagship
The new store marks a milestone in Wing Zone's expansion, bringing the chain's total footprint to 63 locations.
A Look Inside Avra Rockefeller Center
With 30-foot floor-to-ceiling windows and an organic, Grecian aesthetic, Avra Rockefeller Center offers guests courtyard dining in the Time-Life Building's historic plaza.
Readers Split on New Prototypes for 2022
Getting the scoop on new prototypes is something readers of rd+d are always interested in, but they are split on their new prototype plans for 2022.
New Look, Same Personality
Tex-Mex chain Tijuana Flats is keeping its irreverent feel with a redesign aimed at franchising.
Restaurant/Retail and Hybrid Design
On Tuesday, July 19 at 1:00 p.m. CST rd+d will host a roundtable discussion on how the line between retail and restaurants has blurred. Register for this free webcast, here.
Subscribe to more e-newsletters!
You received this e-mail as a subscriber to restaurant development + design or one of its e-newsletters.

Please direct advertising questions to:
Maureen Slocum, Publisher.

Rebecca Kilbreath, Editor in Chief.

Subscription Support:
630-739-0900 (ext. 53) or e-mail Julie Pesek