October 28, 2021
---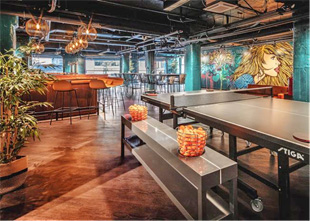 SPIN Expands to Boston
Ping pong-focused social club SPIN opened a location in Boston's bustling Seaport District. Pop art and graffiti don the walls. Working with local artists isn't the only element unique to this venue. Take a tour here.
Coastal Italian Vibes Arrive in DTLA
Sparrow, hospitality Group Noble 33's newest dining concept, serves as a modern coastal Italian restaurant located inside Hotel Figueroa in Los Angeles.
Chipotlanes Coming to Canada
Chipotle Mexican Grill opened its first restaurant with its digital drive-thru, called a Chipotlane, in Canada in Port Coquitlam, B.C.
Top Concerns for Winter 2021
Heading into winter 2021, 38.66% of rd+d readers surveyed said ongoing supply chain challenges and increased construction costs were their top business concerns.
Cracker Barrel Makes Ghostly LA Debut
Tennessee-based Cracker Barrel Old Country Store will bring its homestyle comfort food to Hollywood with the launch of Cracker Barrel Kitchen, the chain's first West Coast ghost kitchen.
Form + Function: Expo Stations
Like most restaurateurs during the COVID-19 pandemic, Lisabet Summa, co-owner of Big Time Restaurant Group, had to scramble to cope with a sharp spike in to-go orders. Here's how she adapted expediting stations to make order fulfilment as efficient as possible.
Click here to subscribe to more e-newsletters!
You received this e-mail as a subscriber to restaurant development + design or one of its e-newsletters.

Please direct advertising questions to:
Kathy Langlois, Vice President.

Rebecca Kilbreath, Editor in Chief.

Subscription Support:
630-739-0900 (ext. 53) or e-mail Julie Pesek