July 8, 2021
---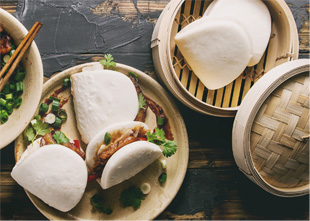 Are Home-Based Restaurants the Future of Foodservice?
In June, the City of Berkeley Environmental Health Division approved its inspection of the first "Microenterprise Home Kitchen Operation" in the San Francisco Bay Area, authorizing home chef Akshay Prabhu to sell hot meals from his home restaurant, Bao House.
Parsley & Mint Sprouts in South Carolina
Parsley & Mint, a fast-casual Mediterranean restaurant that just opened in Greenville, S.C., has an earth-friendly menu and a design that includes plenty of green.
Krystal Unveils New Prototype
QSR Krystal Restaurants LLC unveiled plans for its new restaurant prototype. The new design features a smaller footprint than previous iterations and a focus on more off-premises solutions.
Subway Reworks Menu Amid Store Closures
Subway plans to overhaul its menu and rollout key digital upgrades to improve unit efficiency and the overall brand experience.
Marco's Pizza to Open 22 New Stores
Marco's Pizza signed 2 development agreements that will bring 22 new stores to the Denver metro market by the end of 2024.
How to Become a Technology Company
It's not enough to be passionate about food and hospitality to run a restaurant company. These days, operators need to embrace technology and have it weave like a tapestry throughout the operation — regardless of the organization's size.
Click here to subscribe to more e-newsletters!
You received this e-mail as a subscriber to restaurant development + design or one of its e-newsletters.

Please direct advertising questions to:
Kathy Langlois, Vice President.

Rebecca Kilbreath, Editor in Chief.

Subscription Support:
630-739-0900 (ext. 53) or e-mail Julie Pesek