June 10, 2021
---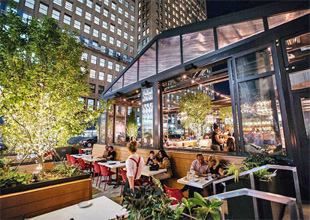 7 Ways to Improve Restaurant Landscaping
Summer's here and customers are eating outside, both to enjoy the outdoors and to continue to feel safe. Adding landscaping to your outdoor space can make a big difference to the look and feel of your restaurant's exterior.
Freddy's Carves a Path to the Future
In this Q&A with Freddy's Frozen Custard & Steakburgers' Co-Founder and COO, Scott Redler explains the company's vision and long-term plans to grow the brand — and encourages other operators to establish founding visions to lead the way.
The Halal Guys Debut New Prototype
The Halal Guys worked with Rubber and Road Creative, a San Francisco-based brand strategy and retail design firm, to create a new fast-casual design that balances the brand's street cart roots and its desire to elevate the brand identity as a growing international franchise operation.
Authentic Sicilian Comes to Miami
Miami's Pastificio Propaganda restaurant is an Italian bistro with a strong Sicilian heritage. The brainchild of Italian entrepreneur Fabrizio Gallina, the modern Italian trattoria targets Miami's upscale Millennial customers.
Golden Chick Goes Modular
Building a new restaurant from the ground up is no easy task. After land is purchased, permitting and construction regularly takes a year and a half. Small wonder, then, that many chains are looking for ways to cut development time. Among those is Golden Chick, a Texas-based QSR specializing in fried chicken tenders.
Click here to subscribe to more e-newsletters!
You received this e-mail as a subscriber to restaurant development + design or one of its e-newsletters.

Please direct advertising questions to:
Kathy Langlois, Vice President.

Rebecca Kilbreath, Editor in Chief.

Subscription Support:
630-739-0900 (ext. 53) or e-mail Julie Pesek