July 11, 2019
---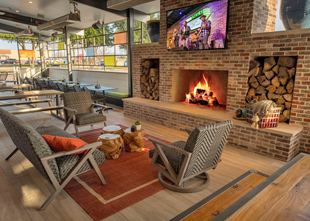 Porch Swing Offers Southern Comfort in a Polished Setting
While casual dining has taken a beating in recent years, many operators have developed a polished-casual strategy to draw in guests. Porch Swing Restaurant, located in the Dallas suburb of Mesquite, puts a new spin on this approach.
QDOBA to Expand Across the South
Fast-casual QDOBA Mexican Eats plans to expand in the Atlanta area and across the state of Alabama thanks to a partnership with Premier Queso Kings, LLC, who signed a 20-unit deal with the chain.
Huddle House Downsizes Prototype to Spur Growth
Huddle House is getting smaller but still growing. The Atlanta-based company is expanding both via company-owned and franchised stores while offering a smaller store footprint, making the brand more accessible to franchisees. In this Q&A, Christina Chambers, senior vice president of franchise development for Huddle House, talks about the smaller store design.
Advertisement
Go Ahead. Walk All Over Us.
Protect-All flooring is a slip-resistant vinyl flooring manufactured from over 90% pre-consumer recycled content that provides slip, stain and fire protection for areas exposed to water, heavy traffic patterns and extreme weight loads. Protect-All helps reduce slips and falls, and is also resistant to mildew and other bacterial growth.

Tour the Design Trends 2019 Photos
On June 10, restaurant development + design's fourth annual Tour the Design Trends took a group of 60 architects, designers and consultants on a behind-the-scenes tour of some of the hottest new restaurants in Chicago.
Togo's Debuts New Design in California
San Jose, Calif.-based Togo's sandwich shops applied its new restaurant design when opening a ground-up prototype in Santa Clara, Calif. and remodeling three units (one corporate and two franchise locations in Emeryville, Fremont and San Jose).
You received this e-mail as a subscriber to restaurant development + design or one of its e-newsletters.

Please direct advertising questions to:
Maureen Slocum, Publisher.

Rebecca Kilbreath, Editor in Chief.

Subscription Support:
630-739-0900 (ext. 53) or e-mail Julie Pesek