May 9, 2019
---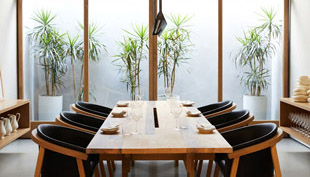 Auburn Offers Fresh Take on Fine Dining
Auburn is a new 105-seat restaurant that opened in Los Angeles in March. The restaurant, designed by Klein Agency, is the first stand-alone venture for co-owner and Chef Eric Bost. In this Q&A with Klein Agency partner Jon Kleinhample, he gives a rundown of the new fine dining space.
Mixt Stresses Fresh, Natural at New Location
Based in San Francisco, Mixt is an organic salad concept offering fresh, local ingredients delivered daily. The chain recently opened a location in nearby Oakland.
Dunkin' to Open 50 New Locations
Dunkin' announced it has signed agreements to open 50 new locations as it continues to focus on growth and development efforts outside of the Northeast. New locations under the agreements are slated to open over the next few years in key growth markets.
2019 James Beard Awards Unveils Best Restaurant Design Winners
The 2019 James Beard Awards took place on Monday, May 6, 2019, at the Lyric Opera of Chicago. Awards for Restaurant, Chef and Restaurant Design were handed out.
Captain D's to Open 15 Units in the Southeast
Fast-casual seafood chain Captain D's signed a deal with multi-unit operator StarChain USA to develop 15 new restaurants throughout Arkansas and the Carolinas over the next several years. Additionally, StarChain will acquire four existing Captain D's restaurants in South Carolina and five in Arkansas.
Project Profile: Oath Pizza
Barely four years old, this fast-casual pizza chain has a new look that embodies its unique food and special corporate culture.
You received this e-mail as a subscriber to restaurant development + design or one of its e-newsletters.

Please direct advertising questions to:
Maureen Slocum, Publisher.

Rebecca Kilbreath, Editor in Chief.

Subscription Support:
630-739-0900 (ext. 53) or e-mail Julie Pesek