March 10, 2022
---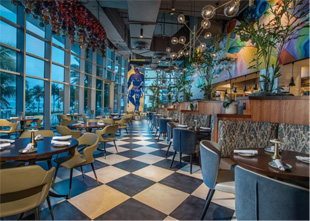 Art Abounds at the Beach
Opened in February 2022, Moréa is a 275-seat Mediterranean restaurant that features Greek-inspired murals, glass art installations and floor-to-ceiling windows that look out onto Fort Lauderdale beach in Florida.
What If Fine Dining Isn't Dead?
Restaurant development firm What If Syndicate set out to prove that fine dining is alive and well by debuting Monarch in The National, a new 51-story luxury mixed-use residential, hospitality and retail project in downtown Dallas.
Subscribe to more e-newsletters!
You received this e-mail as a subscriber to restaurant development + design or one of its e-newsletters.

Please direct advertising questions to:
Kathy Langlois, Vice President.

Rebecca Kilbreath, Editor in Chief.

Subscription Support:
630-739-0900 (ext. 53) or e-mail Julie Pesek