December 9, 2021
---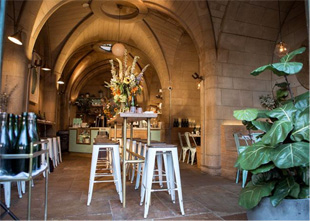 Chain Design with a Boutique Aesthetic
Bluestone Lane expects to have 56 coffee shops in the U.S. by the end of 2021, each location designed to feel individual, unique and boutique. Bluestone Lane founder Nick Stone tells rd+d what it takes to grow a chain full of boutique stores.
'Comfortable Nostalgia' in ATL
Saints + Council, a new tech-enabled, guest-focused restaurant, is serving chef-driven, seasonal menus in a space filled with modern brass fixtures and reclaimed wood beams on vaulted ceilings.
Panera Bread Debuts New Design
Panera recently debuted a new design to meet the increasing demands of drive-thru and off-premises dining while also offering a revitalized dine-in experience around its signature fireplace coupled with enhanced digital and personalized options.
Specifying Windows and Doors
Doors and windows are typically a customer's first impression of an establishment and play a part in setting the tone of a visit – here's how to choose the right ones.
Yucatán Peninsula or South Carolina?
The design of Charleston restaurant Maya was inspired by the Mexican coastline where the jungle meets the sea. ⁠Take a tour of the space – where nature is welcomed indoors with ubiquitous use of pottery pendant lighting, cascading greenery and candle lighting here.
Subscribe to more e-newsletters!
You received this e-mail as a subscriber to restaurant development + design or one of its e-newsletters.

Please direct advertising questions to:
Kathy Langlois, Vice President.

Rebecca Kilbreath, Editor in Chief.

Subscription Support:
630-739-0900 (ext. 53) or e-mail Julie Pesek