February 25, 2021
---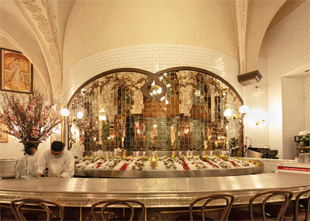 Art Nouveau Brasserie Hits NYC
Despite all the hurdles 2020 presented, La Grande Boucherie managed to make a splashy debut in Midtown Manhattan. The French-style brasserie takes full advantage of the soaring space's classical architecture and boasts the biggest year-round outdoor dining area in New York City.
Soulful Coffee Spot Comes to D.C.
Located in Washington, D.C.'s Navy Yard, La Famosa is a fast-fine restaurant that mixes Puerto Rican roots, a Latin-Caribbean twist, and the grit of the Capital City in one space.
Mountain Mike's Inks 30-Store Deal
Family-style chain Mountain Mike's Pizza inked a development deal that could bring 30 restaurants to Utah over the next decade. The new deal gives Pelican Food Concepts, LLC, exclusive development rights to the state.
Another Broken Egg Cafe to Add 7-Units
Full-service breakfast-and-lunch concept Another Broken Egg Cafe signed a seven-unit franchise agreement extension with multi-unit operator Morning Chef.
Summer House on Music Lane
Sounds like an inviting escape right about now, doesn't it? Indeed, Summer House on Music Lane, a new Austin, Texas, hotspot was designed to evoke the type of relaxed, casually sophisticated getaway that its owners say characterized the city's 1970s summer lake-house culture.
Click here to subscribe to more e-newsletters!
You received this e-mail as a subscriber to restaurant development + design or one of its e-newsletters.

Please direct advertising questions to:
Kathy Langlois, Vice President.

Rebecca Kilbreath, Editor in Chief.

Subscription Support:
630-739-0900 (ext. 53) or e-mail Julie Pesek