April 23, 2020
---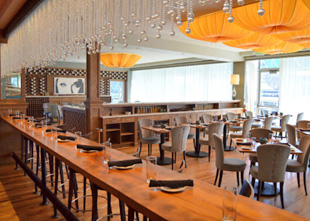 Remodel or Reconcept?
With dining rooms across the country closed, some operators may be asking themselves if now is the time to remodel or reconcept entirely.
Designed for Creativity and Productivity
Videogame maker ZeniMax Media operates out of a space that is intended to serve as a hub for teams and talent to meet and recharge.
A Guide to Selection and Procurement
Steve Starr, principal of starrdesign, offers a few practices you can take to minimize stress and complications when trying to get the best product into your concept seamlessly and cost-effectively.
Miami Grill Evolves for New Normal
Boca Raton, Fla.-based fast-casual Miami Grill announced a new prototype in the wake of the COVID-19 pandemic that does not include a dining room. Instead, it focuses on pickup, drive-thru and takeout.
The Pandemic's Powerful Economic Punch
The restaurant industry has been hard hit by efforts to stem the spread of the coronavirus. And the punch the industry will take may be bigger than first anticipated.
You received this e-mail as a subscriber to restaurant development + design or one of its e-newsletters.

Please direct advertising questions to:
Maureen Slocum, Publisher.

Rebecca Kilbreath, Editor in Chief.

Subscription Support:
630-739-0900 (ext. 53) or e-mail Julie Pesek