September 26, 2019
---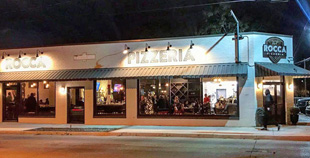 Two Buildings, One Restaurant
In the burgeoning Mid City neighborhood in Baton Rouge, La., Rocca Pizzeria is a full-service operation designed by Ritter Maher Architects that spans two separate buildings with a shared wall.
Call for Entries: The 2020 rd+d Awards
Now in its fourth year, the rd+d awards celebrate the best restaurant designs of the year across seven distinct categories, including Bar Design, New Concept, New Prototype and more.
Upscale Diner Reimagines a Classic Style
An iconic, defunct landmark in Southampton, N.Y., has been reimaged. Once the Princess Diner, the new Silver Lining Diner both modernizes and upscales the traditional diner experience with year-round, locally sourced seasonal fare.
Five Things to Know About Marketplace Fast Casual
Insights from more than 5,000 consumers surveyed were used to identify the rise of "marketplace fast casual," a fast-casual subsegment driven by the demands of younger consumers and shaped by the popularity of farmers markets and food halls.
The State of QSRs
The view from 3,000 feet of the American quick-service restaurant industry is arguably more interesting right now than at any time in its history. And for companies within the segment, now is arguably as challenging a time as any. That's because the once relatively simple QSR restaurant model suddenly is no longer simple.
You received this e-mail as a subscriber to restaurant development + design or one of its e-newsletters.

Please direct advertising questions to:
Maureen Slocum, Publisher.

Rebecca Kilbreath, Editor in Chief.

Subscription Support:
630-739-0900 (ext. 53) or e-mail Julie Pesek