May 23, 2019
---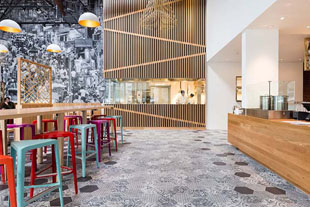 Full-Service Indian Chain Debuts Fast-Casual Concept
Owned by husband and wife team Anjan and Emily Mitra, DOSA is a successful Indian food concept based in San Francisco. The company recently opened its first outpost in Oakland and third location overall. While the first two DOSA units are full service operations, this one, dubbed dosa by DOSA, is the growing chain's first attempt at a fast-casual service model.
Huey Magoo's to Nearly Double Footprint in 2019
Central Florida-based chicken tenders chain Huey Magoo's opened its ninth location, an 1,875-square-foot store located in Champions Gate, Fla., owned by franchisees Chris and McKenzie Cohen.
Form + Function: Getting Graphics Right
Of all the tools available to designers to create a distinctive appearance, none may be more powerful than graphics. The possibilities can seem overwhelming, but one imperative is to always be faithful to the brand and the restaurant concept.
Grimaldi's Pizzeria Set to Expand
With 43 company-owned restaurants under its belt, Scottsdale, Ariz.-based Grimaldi's Pizzeria last month announced it was dipping its toes into the world of franchising. CEO Joseph Ciolli says franchising is how he plans to expand business. In this Q&A, he shares more details about the launch of Grimaldi's national franchising program.
New Seattle Restaurant Seeks to Create Connections
Located just steps from Pike Place Market in Seattle, Wash., Conversation is the new signature restaurant at the Thompson Seattle hotel and features a design that strives to create moments of connection.
Captain D's Thinks Small
Competition for quality real estate in the restaurant industry is fierce, and demand has driven up the price for a piece of land. Naturally, this makes building a new restaurant harder to justify from a dollars and cents perspective, both for concept owners and franchisees. Facing this very issue, 500-plus-unit seafood chain Captain D's tackled the problem at its source: If land is too expensive, develop a prototype that doesn't need much.
You received this e-mail as a subscriber to restaurant development + design or one of its e-newsletters.

Please direct advertising questions to:
Maureen Slocum, Publisher.

Rebecca Kilbreath, Editor in Chief.

Subscription Support:
630-739-0900 (ext. 53) or e-mail Julie Pesek