A digital companion to restaurant development+design magazine
Advertisement

April 13, 2023
---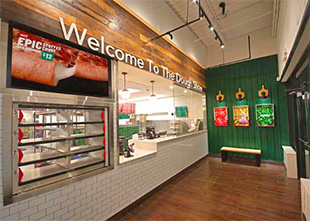 Best Practices for Designing Prototypes
Papa Johns recently created two new prototypes — one for the domestic market and one for foreign locations — both designed differently. Here are seven best practices for designing both prototypes.
Advertisement
Modeling What's Possible
Witnessing discrimination and a lack of knowledge of indigenous foodways, "Sioux Chef" Sean Sherman set out to create change. He's now a restaurateur and advocate committed to helping re-establish Native foodways and creating opportunities for Indigenous food entrepreneurs.
Top Desire for Restaurant Designers
In a survey fielded in February 2023, 52% of rd+d readers wished they had a better understanding of consumer behavior.
Chipotle Unveils Responsible Design
Chipotle has unveiled a new restaurant design, which in addition to all-electric equipment and systems, will also feature biodegradable service ware, cactus leather chairs and artwork made from recycled rice husks.
Subscribe to more e-newsletters!
You received this e-mail as a subscriber to restaurant development + design or one of its e-newsletters.

Please direct advertising questions to:
Maureen Slocum, Publisher.

Rebecca Kilbreath, Editor in Chief.

Subscription Support:
630-739-0900 (ext. 53) or e-mail Julie Pesek
<![endif]-->