December 8, 2022
---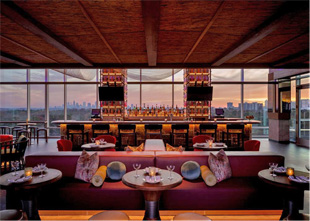 Spaceman Suspends Guests Above ATL
Fifteen stories high, a large communal bar sits inside a 20-foot-high glass box that overhangs the Hyatt Centric Buckhead in Atlanta. The rooftop bar was designed to be an unexpected, dramatic experience with skyline views in every direction.
Advertisement
How Do You Move the DEI Needle?
For Brittani Ratcliff, executive chef at Morehead State University, it starts with simply showing respect for human beings. Having personally experienced ageism, sexism and bigotry, she strives to be a leader who nurtures and sets expectations for an inclusive, respectful workplace for all.
Read to find out more.
Walk-On's Announces New Prototype
Walk-On's Sports Bistreaux's newest prototype aims for greater efficiency and a lower cost of entry for franchisees.
bite-sized buzz
A roundup of interesting bits of news that came across the editor's desk in the last month, including a bunch of development deals, mergers and acquisitions and more.
Jeremiah's Debuts New Prototype Design
Jeremiah's Italian Ice debuted a new 1,500-square-foot store layout that will guide the brand as it identifies ways to achieve a more efficient growth model for its franchise system.
The Colonel's Museum Gets A New Look
KFC got its start in Corbin, Kentucky. The Harland Sanders Café & Museum in the location of that original restaurant has been redesigned to better celebrate the chain's founder.
Subscribe to more e-newsletters!
You received this e-mail as a subscriber to restaurant development + design or one of its e-newsletters.

Please direct advertising questions to:
Maureen Slocum, Publisher.

Rebecca Kilbreath, Editor in Chief.

Subscription Support:
630-739-0900 (ext. 53) or e-mail Julie Pesek