October 13, 2022
---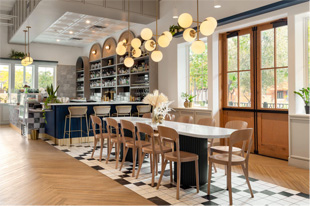 Coffee Shop Serves All-Day Elegance
Hoping to transport guests to a French street cafe, local coffee shop Gypsy Cup layered luxe textures, curated art, and custom details to create a space that serves the community from day to night.
Advertisement
Intentionality is Key for DEI
Diversity, Equity and Inclusion don't happen accidentally or automatically. Vollrath, a sixth and seventh-generation, women-owned company, has been seeking out voices in the industry to raise awareness and understanding.
Read to find out more.
Original ChopShop's Rapid Growth Plans
Better-for-you brand Original ChopShop plans to open six new stores, including its first location in Georgia. The chain has also recently opened a home office support center.
Mutts Cashes in on the Membership Model
Austin Green, director of operations for Mutts Canine Cantina, provides some intel on how the brand combined membership with beer, burgers and puppies to create a recipe for business success.
Operators Turn Attention to Interiors
For the first time in rd+d pulse survey's three-year history, interiors garnered the most attention when it comes to operator investment.
Black Bear Opens First Dallas Location
Black Bear Diner continues aggressive growth in Texas with five additional openings planned for Mesquite, San Antonio, Amarillo, El Paso and Harker Heights.
Investing in Community
After analyzing new habits developed from the pandemic, Lauren Chipman, CEO, Chipman Design Architecture forecasts what's next for Main Street and Central Business Districts throughout the country in this FED Talk.
Subscribe to more e-newsletters!
You received this e-mail as a subscriber to restaurant development + design or one of its e-newsletters.

Please direct advertising questions to:
Maureen Slocum, Publisher.

Rebecca Kilbreath, Editor in Chief.

Subscription Support:
630-739-0900 (ext. 53) or e-mail Julie Pesek