May 12, 2022
---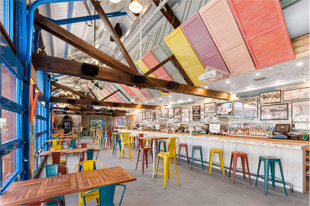 Two Restaurants, One Kitchen
What does it take to open two concepts concurrently, with one kitchen? We talked to Benjamin and Mitchell Banchik, president and co-founder of Charleston, N.C.-based Uptown Hospitality.
Aloha Poke Co. Opens in Atlanta
Fast-casual Aloha Poke Co. recently opened its first location in Georgia, in the Atlanta suburb of Acworth.
Designer Revamps Garden Level Space
Rochester, N.Y.-based food truck Petit Poutinerie has opened its first brick-and-mortar location. Here's how designer Jason Longo transformed the garden level of a historic building into a cozy and colorful Parisian-style cafe.
Brazilian Steakhouse Chain Enters Qatar
Texas de Brazil recently opened its first outpost in Qatar, at the Mall of Qatar in Doha.
Shawarma Press Adapts for Walmart
Shawarma Press operates four locations in Walmart stores in Texas and has plans to open seven more before the end of the year. Here's how the fast-casual Mediterranean brand has adapted operations for their grocery store restaurants.
Subscribe to more e-newsletters!
You received this e-mail as a subscriber to restaurant development + design or one of its e-newsletters.

Please direct advertising questions to:
Kathy Langlois, Vice President.

Rebecca Kilbreath, Editor in Chief.

Subscription Support:
630-739-0900 (ext. 53) or e-mail Julie Pesek