September 9, 2021
---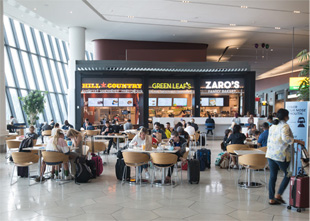 Best Practices for Airport Locations
With the potential to double – sometimes triple – sales and profits of traditional locations, airports can be significant vehicles for growth. Here are six best practices for developing restaurants in airports.
Designers Split Over Kitchen Concerns
Despite mobile ordering and off-premises dining becoming increasingly common, not all designers are developing kitchens with higher volumes in mind. In fact, 50.6% of restaurant development + design readers survey respondents said they were not designing or planning for more high-volume kitchens across a variety of segments.
Pizza Inn's New Franchise Agreement
Pizza Inn plans to open three new locations in Palestine. Franchisee General Trading Company projects the first location will open by March 2022 in the city of Ramallah/Nablus.
P.F. Chang's Opens Flagship Location
P.F. Chang's opened its Royal Hawaiian location in Honolulu, Hawaii, as an upgraded flagship dining destination.
Click here to subscribe to more e-newsletters!
You received this e-mail as a subscriber to restaurant development + design or one of its e-newsletters.

Please direct advertising questions to:
Kathy Langlois, Vice President.

Rebecca Kilbreath, Editor in Chief.

Subscription Support:
630-739-0900 (ext. 53) or e-mail Julie Pesek