October 22, 2020
---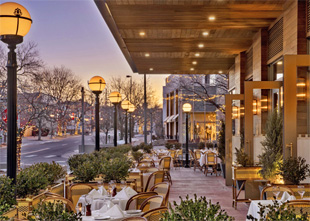 5 Tips for Extending Outdoor Dining
Across many northern states in the U.S., the weather's rapidly cooling, which isn't good news when the majority of your customers are dining outdoors. Here we offer up five best practices for extending the use of outside space.
Advertisement
Berner PureAir Package™ for
Air Curtains
The Berner PureAir Package™ for Air Curtains deactivates viruses and kills bacteria and mold spores, starting at the entrance. Saves energy and purifies air. Perfect for restaurants looking to clean the air as part of their Covid-19 safety precautions.

Mozzeria Design Embraces Deaf Culture
San Francisco-based Mozzeria has served as a space that is welcoming and accommodating to deaf individuals, making it a well-known spot in the global deaf community. Its new prototype reinforces that commitment.
Dumpling Hotspot Opens at ARIA
Las Vegas
Taiwanese chain Din Tai Fung, which has more than 180 locations worldwide, has opened its first outpost in Las Vegas, inside the ARIA Resort & Casino.
P.F. Chang's Expands its To Go Platform
In an attempt to satisfy consumers' cravings for the convenience of off-premises dining, P.F. Chang's brought its to go concept to New York City, with plans to add more locations in other markets.
High-Tech Tools for Bar Design
When Jon Taffer, the award-winning hospitality expert and host of the popular TV show "Bar Rescue," decided to open his own restaurant, Taffer's Tavern, his team enlisted some of the latest technologies to design the bar to be as efficient and labor saving as possible.
You received this e-mail as a subscriber to restaurant development + design or one of its e-newsletters.

Please direct advertising questions to:
Kathy Langlois, Vice President.

Rebecca Kilbreath, Editor in Chief.

Subscription Support:
630-739-0900 (ext. 53) or e-mail Julie Pesek