July 9, 2020
---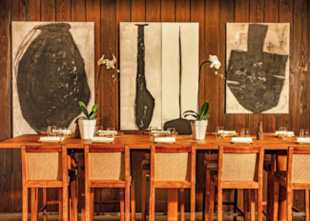 Concept Fuses Menu, Design
Osaka Nikkei is a fusion concept with a design goal of creating a warm space that balances inspirations from Peru and Japan.
Glamour Reigns at New Steakhouse
Bugsy & Meyer's Steakhouse at Flamingo Las Vegas takes notes from the past while adding fresh twists from design firm Studio K Creative and renowned designer Jonathan Adler.
A Tale of Two Taco Joints
TacoVision is a two-story eatery with two distinct aesthetics and service models. The first floor houses a bright grab-and-go counter, while on the second floor guests experience a more sophisticated space.
You received this e-mail as a subscriber to restaurant development + design or one of its e-newsletters.

Please direct advertising questions to:
Kathy Langlois, Vice President.

Rebecca Kilbreath, Editor in Chief.

Subscription Support:
630-739-0900 (ext. 53) or e-mail Julie Pesek