March 26, 2020
---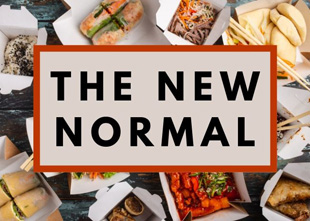 Indie Restaurant Pushes Forward Despite Pandemic
Just this month, chef Jarrett Steiber realized his dream and opened Little Bear restaurant in Atlanta. Here, Steiber explores the flexibility and ingenuity that goes into opening a restaurant in the midst of an unprecedented global pandemic.
Takeout is the New Dine In
With stay-at-home orders affecting roughly 50% of the U.S. population, it's a precarious time for restaurant operators. How this will affect development and longer-term trends remains to be seen, but for now takeout is the new dine in.
Upscale Aesthetic Pairs with Varied Spaces
Miami's Navé is an upscale seafood and pasta restaurant from chefs Michael Beltran, owner of Ariete Hospitality and his partner, Justin Flint. Navé was designed as a counterpoint to the owners' flagship restaurant, Ariete.
Launching a Takeout and Delivery System
Getting creative in the restaurant industry doesn't just put you ahead now. It keeps your restaurant alive. Steve Starr, principal of starrdesign, shares a step-by-step approach to launching an accurate, inexpensive and safe delivery and takeout effort.
Designers Dish 2020
Ever wish you could pull up a chair with a few crack restaurant designers over cocktails to chew the fat about what's in, what's out, what inspires them and what they see coming around the bend? Us too.
Coronavirus Fears Grip Diners
The novel Coronavirus has led to nearly 60% of consumers being concerned about dining out, with one in five "definitely" avoiding doing so. A breakdown of Datassential's Coronavirus research report is ready for you here.
You received this e-mail as a subscriber to restaurant development + design or one of its e-newsletters.

Please direct advertising questions to:
Maureen Slocum, Publisher.

Rebecca Kilbreath, Editor in Chief.

Subscription Support:
630-739-0900 (ext. 53) or e-mail Julie Pesek