May 28, 2020
---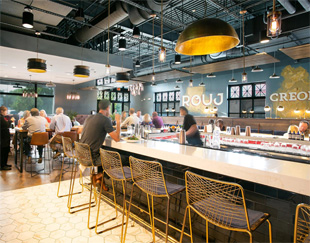 Rouj Offers Upscale Creole
Baton Rouge, La., based Rouj is a high-end Creole concept owned by City Hospitality Group. Here's how designers created distinct experiences within the restaurant's open floor plan.
Three Steps to Reassuring Consumers
Steve Starr, president of starrdesign, explains the tectonic shift restaurants are facing due to sudden changes in guests' priorities, and how to address them.
Pizza Inn's Right-Way Buffet Plan
Reports that buffet dining is dead have been greatly exaggerated. Pizza Inn launched a Right-Way Buffet effort to reassure guests as restaurants continue to reopen across the United States.
A Co-Branding Batch Made in Heaven
The new Great American Cookies and Marble Slab Creamery co-branded experience was crafted with storytelling and a heightened sense of food theater in mind.
Panera Goes High-Tech
Panera updated its curbside service to include an opt-in geofence service that extends Wi-Fi into the parking lot, alerting staff when a guest arrives to pick up their order, allowing for a frictionless curbside delivery experience.
Bring Nature in With Biophilic Design
Biophilic design is all about integrating nature into the built environment. Here's how this design concept can decrease stress and increase consumer spending.
You received this e-mail as a subscriber to restaurant development + design or one of its e-newsletters.

Please direct advertising questions to:
Kathy Langlois, Vice President.

Rebecca Kilbreath, Editor in Chief.

Subscription Support:
630-739-0900 (ext. 53) or e-mail Julie Pesek