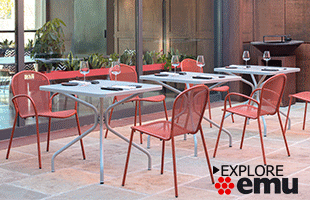 Ronda 2.0, Re-Designing Perfection
It is a challenge to re-design perfection. Nonetheless, our Italian designers have taken the original Ronda, created in 1997, and perfected it to the Ronda 2.0. The innovative one-piece design for the seat and back follows the curves of the body to amplify support and comfort. A newly designed mesh makes this collection practical and strong, yet lightweight enough to stack. Made using the same patented e-coated steel process as the original, Ronda 2.0 is durable and perfect for any patio. This collection consists of a sidechair, armchair and barstool.
Ceilings Designed for the Discerning Palate
WoodWorks® ceilings harness the natural beauty of wood to elevate the perfect dining experience – engaging the senses and creating a warm, inviting space. Eye-catching designs including WoodWorks Grille and Open Cell are not only beautiful, but they're part of the CleanAssure™ portfolio, meeting CDC recommendations for cleaning and disinfecting.

UD-Wall Boasts Fast, Easy Installations
LTI's UD-Wall serving counter is faster and easier to install than traditional millwork or steel counters — and is much more affordable. The walls can come in one piece or sections that can be bolted together in the field. Whatever works for you,
UD-Wall can accommodate it.
Keep the Buzz, Kill the Noise
You want your restaurant to have a good buzz, but not to be so loud as to turn off customers. Eckel acoustic panels are the answer. Our easy-to install, maintenance-free panels absorb the excess noise that can annoy some dining clients and leave your establishment with a lively, but comfortable, hum. Available in custom sizes and colors.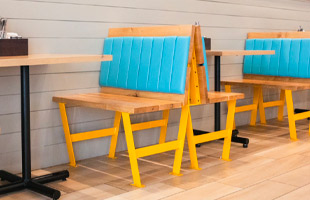 Booths & Banquettes Made in the USA
Crow Works booths and banquettes are perfect for national and emerging restaurant brands. They come in a range of sizes, options, and price points to provide you with the best fit for your project. Made in Ohio from natural hardwoods, durable steel, and sustainable textiles.

Designers Dish Webcast
Our panel will offer their unbridled opinions on the hottest restaurant design trends, inspirations and challenges, as well as tips on forging great designer/client relationships. Hear directly from, and pose your questions to, three prolific, creative and experienced restaurant designers.
Click here to subscribe to more e-newsletters!
You received this e-mail as a subscriber to restaurant development + design or one of its e-newsletters.

Please direct advertising questions to:
Kathy Langlois, Vice President.

Subscription Support:
630-739-0900 (ext. 53) or e-mail Julie Pesek