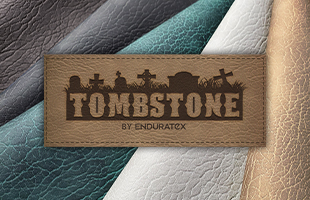 TOMBSTONE by ENDURATEX™ 
Performance Distressed Leather-Look Worthy of Boot Hill. TOMBSTONE is an extraordinary, distressed leather-look, coated fabric with tremendous performance attributes. Its rough and tumble fabric character, resembling a wonderfully worn leather, has been enhanced with anti-bacterial, anti-microbial agents and meets flammability requirements. It is available in seven rich SKUs.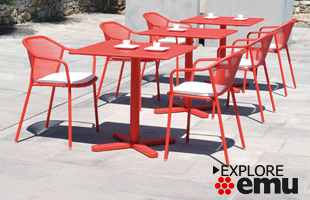 Darwin, the Next Generation of Patio Furniture
The Darwin collection is functional and simple, reintroducing classic themes by utilizing a metal sheet mesh with a contemporary geometric structure. The ergonomic proportions of the seating components guarantee both comfort and adaptability to any environment, application or project. Darwin is a complete collection of dining, bar and lounge seating with coordinating tables.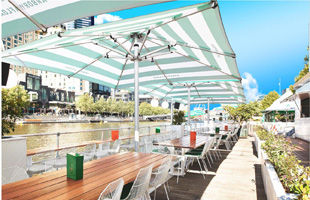 Reimagine Your Outdoor Space with the Notable Nova
The Nova provides maximum shade for your outdoor dining area, for a more functional and profitable space that provides comfort for your guests. Its 9 oz. awning grade canopy is easy to clean, resistant to mildew and mold, and has an exceptional guarantee against fading.

Take Your Next Design to the MAX
ATI Decorative Laminates' latest innovation is MirroFlex™ MAX, a set of deeply textured wall panels that offer our boldest, 3-dimensional patterns to date. With six contemporary designs and five finishes, it allows you to create a unique look for any space. MAX is also lightweight and easy to install. Use promo code RDDMAX11 to receive a brochure.

Removable Outdoor Dining Partitions
Design your perfect outdoor seating area with SelectSpace! Our modular, rust-proof partitions are easy to assemble and come in multiple patterns and colors. We also offer integrated planters, gates, and the option to customize the panels with your logo!

Save Time and Money on Restaurant Furniture
Restaurant Furniture Plus offers a one-stop catalog of over 10,000 commercial-grade furniture products, aggregating all design styles, materials and price points. Our expert project managers can help you find what you need, with our free furniture sourcing service. Mention rd+d for special pricing.
Click here to subscribe to more e-newsletters!
You received this e-mail as a subscriber to restaurant development + design or one of its e-newsletters.

Please direct advertising questions to:
Kathy Langlois, Vice President.

Subscription Support:
630-739-0900 (ext. 53) or e-mail Julie Pesek