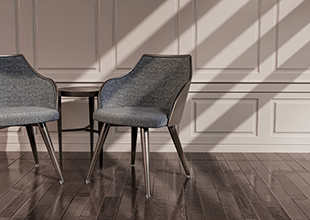 MTS Inessa™ U Series Chair
Inessa™ U Series, WL01-U1FWBP, by MTS Seating features a wood shell with an upholstered inner back pad and seat. Wood legs made from hard maple attach into steel sleeves that create an understructure. This construction eliminates the use of glue joints and wobbly legs. All Inessa models are backed by a 5-year structural frame warranty. MTSseating.com
Join The Counter(top) Revolution Today
Crossville Porcelain Countertops revolutionize restaurant surfaces. Now you can have the power—and style—of porcelain tile on countertops throughout the house. No stains, yellowing, or cracking—these 12mm-thick porcelain slabs are the answer for your most demanding spaces. Learn more today!

Walnut With A Wave
Shown here is Treefrog Walnut Straight Grain, which has a sublime slight wave to the grain, to keep things interesting. To keep things interesting in your projects, spec Treefrog. It's a prefinished real wood veneer laminate that applies easily and offers consistent selection, sheet after sheet. European quality. Stocked in USA. More at treefrogveneer.com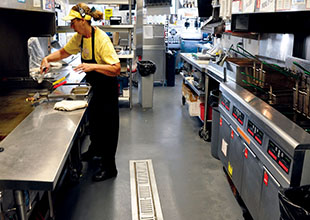 Go Ahead. Walk All Over Us.
Protect-All flooring is a slip-resistant vinyl flooring manufactured from over 90% pre-consumer recycled content that provides slip, stain and fire protection for areas exposed to water, heavy traffic patterns and extreme weight loads.
Protect-All helps reduce slips and falls, and is also resistant to mildew and other bacterial growth.

T&S DuraPull Reinvents The Pre-Rinse Unit
T&S Brass DuraPull with pull-down activation is an entirely new approach to pre-rinse units, offering efficiency and durability for high-volume kitchens. The unique, intuitive function reduces user fatigue and eliminates excess water waste. DuraPull's premium design and heavy-duty construction are backed by an industry-leading
7-year warranty and available in over 25 configurations.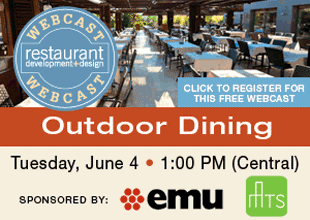 FREE Webcast - Outdoor Dining
So many people specifically search for outdoor dining spots that popular services like Yelp offer outdoor seating as a search option. Once thought of as popular in cities like Honolulu or Miami, northern U.S. cities are jumping on the year-round outdoor trend by utilizing heat lamps and retractable roofs and windows. In this hour-long webcast, we look at the popular trends, innovations and enhancements designers have made to a restaurant space's alfresco dining area. Learn More.

You received this e-mail as a subscriber to restaurant development + design or one of its e-newsletters.

Please direct advertising questions to:
Maureen Slocum, Publisher.

Subscription Support:
630-739-0900 (ext. 53) or e-mail Julie Pesek