November 11, 2021
---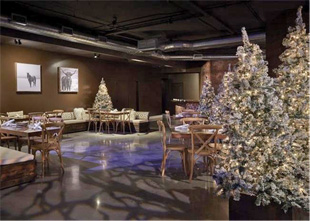 Restaurant Refreshes Design Every Season
The Loft at Lena's, an experience within Lena's Wood-Fired Pizza & Tap, debuted its fourth iteration in November, Velvet & Rye, a holiday-themed spin on an intimate 1920's-era jazz club.
Luxe Speakeasy Hides in San Diego Mall
From the secret rotating wall entrance and nouveau gazebo bar to the cobblestone-like storefront, Raised by Wolves allows guests to feel fully immersed in the space.
Remodel Initiative gets Accelerated
Another Broken Egg Cafe's new and remodeled cafes are outperforming the system, so plans are underway for more company and franchise remodels throughout next year and beyond.
Lemonade Celebrates New Prototype
Lemonade, a California-based fast-casual brand known for its seasonal food and drink menu, hosted a grand reopening to celebrate a remodel and new prototype launch.
New Fast-Casual Design Takes Flight
In an effort to reduce costs and maximize output, casual dining chain East Coast Wings + Grill has developed and tested a fast-casual prototype design that it plans to roll out to franchisees.
New Flexible Format for UNO
UNO Pizzeria & Grill introduced a new franchise concept that recreates the look and feel of the brand's original Pizzeria UNO Chicago location.
10 Co-Branded Units Come to NYC
Auntie Anne's and Cinnabon signed a deal to bring 10 co-branded Auntie Anne's and Cinnabon locations to the five New York City boroughs over the next four years.
Raising Cane's to Enter Florida
Raising Cane's Chicken Fingers' South Beach unit, set to open in February 2022, is the chicken chain's first location in the Sunshine State.
Click here to subscribe to more e-newsletters!
You received this e-mail as a subscriber to restaurant development + design or one of its e-newsletters.

Please direct advertising questions to:
Kathy Langlois, Vice President.

Rebecca Kilbreath, Editor in Chief.

Subscription Support:
630-739-0900 (ext. 53) or e-mail Julie Pesek