Solutions Center
Categories:
HardStop Decorative Protection Panels by Formica Group
HardStop Decorative Protection Panels by Formica Group are high-performance wall panels and are available in all of Formica's brand colors and patterns. HardStop panels feature a treated fiberglass core for added durability, strength and fire resistance. Apply the panels directly to drywall and many other substrates. The panels are suitable for vertical applications.
Interior Systems International's conceptz Vintage Acoustics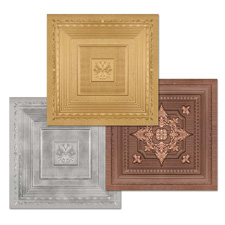 Available in both a wood and tin design (pictured), conceptz Vintage Acoustics is a lightweight, noise-reducing ceiling treatment that has an NRC of .75. Available in 2-foot-by-2-foot panels, it cuts easily with a utility knife for installation in tee-bar grid systems. It has 68 percent to 85 percent recycled content, depending on which product selected, and square-edge details.
The Mitchell Group's Sta-Kleen Silicone Fabric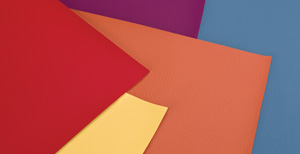 Sta-Kleen Silicone is a coated upholstery fabric made from 100 percent silicone with a polyester double-knit backing. It is inherently stain- and mildew-resistant. The collection consists of three patterns: Hayden, Santa Fe and Silex and a total of 64 SKUs.
MTS' Lehto Chair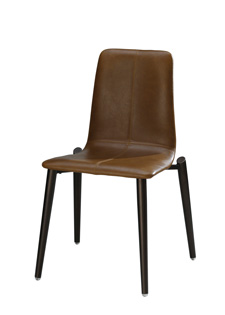 The Lehto chair features a contemporary 
upholstered shell design. Add optional stitching to complement or contrast the upholstery. Choose from a variety of base designs, including a steel tapered four-leg base (pictured). Backed by a 5-year structural frame 
warranty.
Modern Forms' 60-Inch Kinetic Chandelier
Modern Forms added a 60-inch chandelier to its Kinetic line. The gyroscope-inspired openwork globe with individually adjustable rings offers a customizable, futuristic appearance. The luminaire comes with either a titanium or black finish, with full range dimming. The chandelier operates with a Universal Driver (120V-220V-277V) within the canopy and 0-10V dimming. The chandelier features a 3500K CCT and a long-lasting rated life of 84,000 hours using high-output LEDs that deliver up to 3475 lumens. An optional fifth ring is also available.
SONNEMAN—A Way of Light's Intervals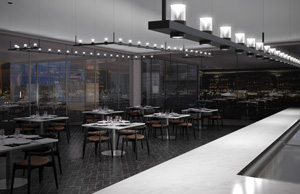 Intervals is an architecturally scalable system of rhythmically aligned bidirectional lighting. Intervals' suspended horizontal beam spans long lengths within a space, supported via ceiling-mounted cables. Evenly spaced integrated downlight lenses and upward illuminated decorative glass diffusers offer solutions to expansive architectural locations. Available in 4- or 8-foot lengths, the collection features connections that allow linear scalability as well as right angle connection points. Additionally, Intervals features a dual circuit so up and down lighting can be independently controllable. Each 4-foot beam contains its own driver, allowing for evenly distributed lighting both up and down.
Tonik's SWIZZLE Light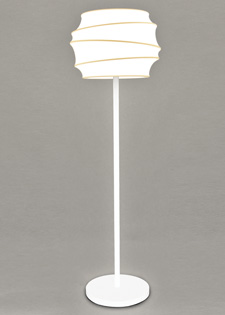 Tonik's SWIZZLE line of indoor/outdoor furniture now includes a floor lamp. The lampshade consists of Tonik's Moonglow-colored polyethylene, formulated to withstand high impacts and exposure to UV rays. The minimalistic tube and base are fashioned from rust-resistant stainless steel. The all-weather cord is available in three colors. SWIZZLE light comes in three sizes: a floor lamp and both small and large tabletop pedestals.
TURF's Switchblade Magnetic Acoustic Ceiling System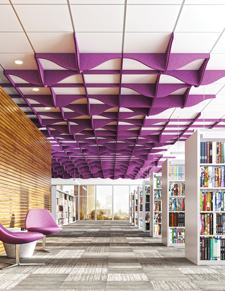 Made of individual baffles that attach to existing tee grids with magnets, the Switchblade Magnetic Acoustic Ceiling System is available in 17 colors of recycled PET felt and 3 design styles: classic, organic and geometric. The system is compatible with steel tee grid systems with flat 9/16-inch and 15/16-inch cross sections.