Solutions Center
Categories:
Paris Site Furnishing's Bridgeline Litter Receptacles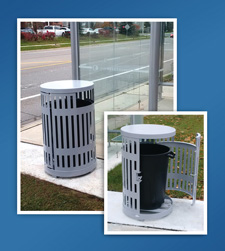 The Bridgeline series of steel litter receptacles feature contemporary styling and vandal-resistant construction. These 34-gallon containers feature a side opening door for servicing, and a side debris opening that naturally controls materials users can deposit. Rust-proof and powder-coated in a range of colors, Bridgeline litter receptacles are suitable for both interior and exterior applications.
Trex Commercial Products Ascent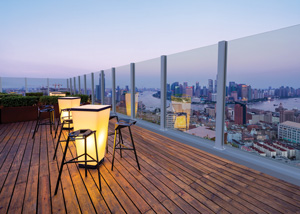 Ascent is a post-supported glass windscreen suitable for exterior use in commercial hospitality applications, specifically balconies and outdoor dining areas. This system can handle 80 psf wind loads. It comes at a standard height of 6 feet but can be customized based on project needs. Ascent uses an aluminum snap-fit system with concealed fasteners. With one side of the post in place, the glass is positioned in front of the system and held in by double-sided foam tape. The tape holds the first pane of glass in while the next piece of glass is installed. The cover is then snapped in from the front, securing the half-inch glass panel in place. To prevent corrosion, the posts are secured with an embedment or welded base plate, avoiding any contact with concrete.
Walters' Regatta Collection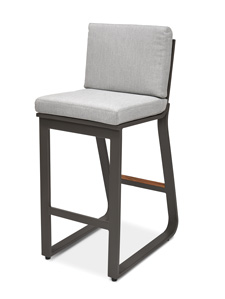 Designed by renowned architect Jeffrey Beers, The Regatta Collection of resort lounge and dining furniture is aesthetically nautical and modern. This line of outdoor furniture includes an armchair, dining chair, barstool, dining table and cocktail table. The line features a neutral color palette, and designers can choose to customize their selections through the use of accent colors and woven cord.
E = LED lighting by Yellow Goat Design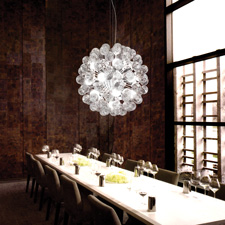 A design by mathematical equation, E = is a large-scale contemporary lighting design. This hanging pendant scatters the light in elegant magnetic fields around a room. Lit by LED bi-pins, handblown glass and crystal balls are fixed to rods and mounted to a polished aluminum core in strict, calculated locations. E = is available in a variety of finishes such as brass, gold and silver.
Advance Tabco's Stainless Steel Beer Boxes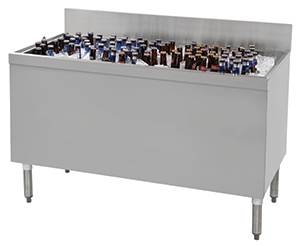 Advance Tabco's Prestige series Stainless Steel Beer Boxes keep bottled beer cool and within an arm's reach in a drink serving station or high-volume bar. The unit features stainless-steel construction and an 18-inch-deep insulated basin. The unit's perforated, removable false bottom and 1-inch IPS drain for melted ice ensures proper sanitation by not letting the water sit on the bottom of the box. The PRBB series also features a 7-inch backsplash to better protect the wall and maintain a flush line with other underbar equipment.
Altro XpressLay Flooring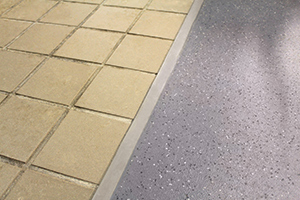 Altro XpressLay adhesive-free, slip-resistant flooring, gets installed via a tape system. The floor back can be installed, welded and walked on within 24 hours. Designers can install it over existing substrates, metal, wood and even existing quarry tile. Altro XpressLay can help for temporary installations, such as pop-up restaurants or historical renovations. The flooring comes in six colors available for quick shipping.
American Tin Ceilings
American Tin Ceilings manufactures authentic tin tiles for use as ceilings, backsplashes, walls and more. The acoustical panels can be installed in drop-in ceilings and in nail-up applications; they provide a noise reduction coefficient of 0.85, per the manufacturer. Available in 35 traditional and modern patterns and more than 50 colors, including Pattern #10 in Artisan Silver Washed White (pictured).
Beaufurn's Monterey Table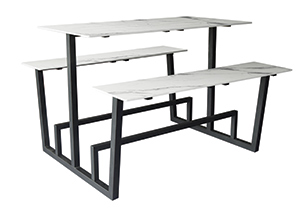 Beaufurn's Monterey Table features a stainless-steel frame available in six powder coat finishes. The all-weather HPL heat-, scratch- and UV-resistant seat and tabletop is available in 12 colors and patterns, including wood grains and marbles. All of the tabletops have grooves to support phones or tablets. Suitable for both indoor and outdoor seating, the unit is available in both dining and bar heights. The bar-height model comes with footrests.