Solutions Center
Categories:
Oxford Garden's Argento Line of Seating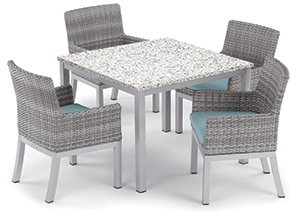 This line of dining and bar seating includes an armchair, side chair and barstool. The chairs feature powder-coated aluminum frames and a variety of cushion options.
Simple Walls' Faux Brick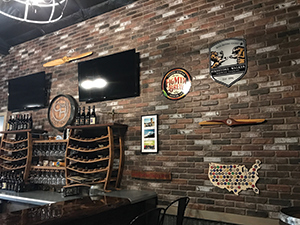 Simple Walls' Faux Brick walls are targeted toward the DIY market and made from 100 percent recycled materials, including cardboard, newsprint and wood chips. Designed for indoor use only in lightweight applications, they can be glued, stapled or screwed directly to the wall. DTLA (pictured) is finished using UV digital printing. Available in 14 colors as well as a paintable option. Sections measure 261/4 inches tall and are 43 inches wide.
TorZo Surfaces' RayFleck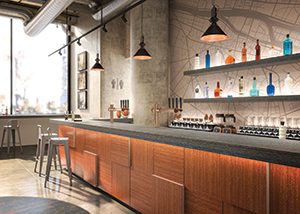 Adding a durable acrylic resin to beech hardwood, TorZo Surfaces has created a sustainable surfacing material that can be used in furniture design, interior finishes and wall cladding, among other horizonal and vertical applications. RayFleck is available in eight colors, including natural.
Armstrong Flooring's DecorArt Rejuvenations
Armstrong has added three collections — TimberLine, StoneRun and Ambigu — to its Rejuvenations vinyl sheet line. Highly scratch, stain and scuff resistant, Rejuvenations is a low-maintenance product with a no-polish option. TimberLine features woods and neutrals with a dimensional edge. StoneRun showcases stone and polished concrete visuals in contemporary tones of gray. Ambigu combines textures and patterns to create a textile look.
Aspecta by Metroflor's Ornamental LVT
Aspecta One Ornamental is a luxury vinyl tile available in three motifs — Damask, Masquerade and Malta — that can be ordered as stand-alone tiles or layered on to Aspecta One plank and tile designs, providing custom options outside the custom tile process. For example, Damask can be overprinted on select Aspecta One Midtown tiles and Washed Wood planks, but it's also available as its own tile or a plank.
Ceilume's Thermoformed Panels
Ceilume's thermoformed panels have eliminated the need for trim strips to cover gaps between panels, making them appropriate for light- and medium-duty wall applications. The 24-inch by 24-inch rigid vinyl tiles are offered in a wide variety of colors, faux metal and wood finishes with up to 98 percent recycled content. The initial wall panel styles, Manchester and Nantucket (pictured), have classic motifs. The low-VOC panels are stain-resistant and washable.
Crossville's Retro Active 2.0
Retro Active 2.0 is a porcelain tile collection with through-body colors. It offers contrasting hues and seven sizes. The collection's 13 colors — including Snow Blind, Roasted Chestnut, Leaden, Mercurial, Phantom, Armor, Gulf Breeze, Racing Green and Royal Navy — are available in both polished and unpolished finishes. Green Square certified, the line is recommended for exterior walls and interior floors, walls and countertops.
Enduratex's Alchemy Collection
Alchemy is a new faux-leather metallic collection inspired by semiprecious stones and metals. It features a stain-resistant topcoat that also helps preserve the fabric's luster and softness. Alchemy comes in 30-yard rolls and is 54 inches wide. It is available in 18 SKUs.