Solutions Center
Categories:
Rigidized Metals' Rigi-Grip Tubing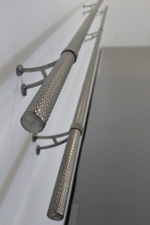 Designed for railings, bar rails and grab bars, Rigidized Metals' Rigi-Grip stainless-steel tubing is available in two diameters, 1¼ inches and 1½ inches. They can be used for ADA-compliant gripping rails. The texture adds both visual appeal and durability with its ability to hide scratches and dents.
Tarkett VCT
Tarkett VCT is a new line of vinyl composite tile in 29 popular colorways. Tarkett VCT is phthalate-free, 100 percent post-consumer recyclable and constructed with 85 percent limestone.
Art Deco Tile by Vanessa Deleon
The Art Deco by Vanessa Deleon collection of large-scale, 24-inch-by-24-inch tiles was designed in collaboration with TileBar. The collection consists of two geometric patterns outfitted in Nero Marquina marble, white Carrara marble and Thassos marble enhanced by a brass inlay. From two patterns, more than eight completely singular configurations arise. The tiles are suitable for application on all interior floors and walls. Customization options are also available.
ATI Decorative Laminates' Divine Elements Collection
The NuMetal Divine Elements Collection contains 14 new high-pressure laminates inspired by nature and mythology. NuMetal is a collection of high-pressure laminates with real metal surfaces and phenolic paper backing. Standard sheets measure 4 feet by 8 feet and are also available in 4 feet by 10 feet as a special order. The line features etching, embossing and hand painting techniques and is suitable for a variety of vertical and light-duty applications.
DaVinci Roofscapes' Hand-Split Shake Composite Siding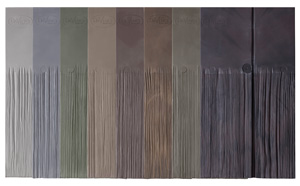 Featuring the appearance of authentic cedar shakes, DaVinci Hand-Split Shake Siding products come in eight colors. The line resists impact, fire, mold, algae, insects, salt air and high winds. Each tile measures 18 inches tall with a 5/8-inch thickness and comes in 8- or 10-inch widths. The 10-inch-wide pieces have a simulated keyway to give the appearance of 4- and 6-inch-wide shakes placed together.
DeepStream Designs' Oahu Bins
Oahu recycling and trash bins feature a quick-change slide-in panel system that allows for a custom appearance for any space. DeepStream Designs' proprietary anodized aluminum extrusions and 316 stainless-steel components have no paint or powder coating. The open-grid liner support and no-leak plastic bins reduce the likelihood of pests hiding in them. Available with nonmarking feet, casters or adjustable feet. All parts are replaceable.
Eagle Group's Director's Choice Adjustable Height Option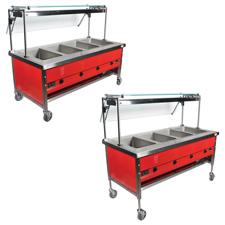 Available in both manual and electric, the Director's Choice Adjustable Height serving line allows adjustments from 28½ inches to 34½ inches, providing flexibility for both staff and customers. The unit has both stationary and mobile applications. For mobile uses, the unit has 5-inch casters, two with brakes.
Eliason SCP-3 Stainless Steel Traffic Door
The SCP-3 Stainless Steel Traffic Door is constructed of a ¾-inch sustainable, moisture-resistant, composite wood core with stainless steel, full height cladding. Custom window, impact plates, spring bumpers and other options are also available. The model pictured has an elongated, flush, ADA window for easy cleaning and sanitization and high visibility on either side of the door.