Solutions Center
Categories:
Gilani's Copper Cone Bar Chair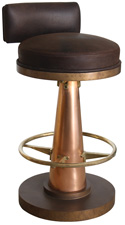 Inspired by the art deco period, the Copper Cone Bar Chair is available in both bar and counter heights. Upholstered in brown or black leather, the metal plinth and seat frame are available in a variety of finishes. A brass footrest leads down to a sturdy base that features nylon glides to prevent floor scratching.
Grand Rapids Chair Co. Frankie Table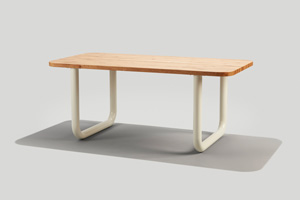 Designed by Joey Ruiter, the Frankie collection of communal tables utilizes two oversized U-shaped structural-grade steel tube legs that seamlessly intersect with a solid wood top. Available in a wide range of colors and finishes, the table ranges in length from 72 to 94 inches. 

GSky Plant Systems, Inc.'s Versa Wall
The Versa Wall's modular design allows for simple installation of living walls, including around architectural features like doors and windows. Each plant remains in its own 4-inch pot so full-grown plants can be swapped in quickly and cleanly and walls can be redesigned at will. Featuring a patented vertical irrigation technology, the Versa Wall system cuts water waste, prevents oversaturation and boosts cost efficiency by automatically running a timed gravity-based irrigation cycle less than once a week, per the manufacturer.
Original BTC's Globe Pendant
Available in three sizes as well as a wall light, the Globe Pendant is available in opal, anthracite, and clear seedy or anthracite seedy glass shade, with polished chrome or brass metalwork. The Globe Pendant with opal glass is featured in the refurbished bar of the Fox & Goose Hotel (pictured).
Rigidized Metals' Rigi-Grip Tubing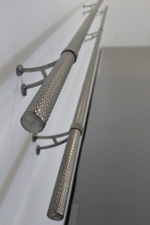 Designed for railings, bar rails and grab bars, Rigidized Metals' Rigi-Grip stainless-steel tubing is available in two diameters, 1¼ inches and 1½ inches. They can be used for ADA-compliant gripping rails. The texture adds both visual appeal and durability with its ability to hide scratches and dents.
Tarkett VCT
Tarkett VCT is a new line of vinyl composite tile in 29 popular colorways. Tarkett VCT is phthalate-free, 100 percent post-consumer recyclable and constructed with 85 percent limestone.
Art Deco Tile by Vanessa Deleon
The Art Deco by Vanessa Deleon collection of large-scale, 24-inch-by-24-inch tiles was designed in collaboration with TileBar. The collection consists of two geometric patterns outfitted in Nero Marquina marble, white Carrara marble and Thassos marble enhanced by a brass inlay. From two patterns, more than eight completely singular configurations arise. The tiles are suitable for application on all interior floors and walls. Customization options are also available.
ATI Decorative Laminates' Divine Elements Collection
The NuMetal Divine Elements Collection contains 14 new high-pressure laminates inspired by nature and mythology. NuMetal is a collection of high-pressure laminates with real metal surfaces and phenolic paper backing. Standard sheets measure 4 feet by 8 feet and are also available in 4 feet by 10 feet as a special order. The line features etching, embossing and hand painting techniques and is suitable for a variety of vertical and light-duty applications.