Solutions Center - Furnishings
Oxford Garden's Argento Line of Seating
Furnishings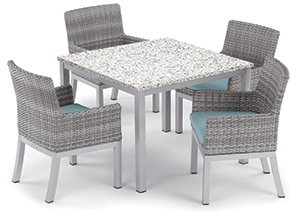 This line of dining and bar seating includes an armchair, side chair and barstool. The chairs feature powder-coated aluminum frames and a variety of cushion options.
Rytec Corporation's Spiral VP Door
Furnishings
Rytec's Rigid Rolling Door line includes the Spiral VP, designed for lower-speed, lower-cycle applications. It features a heavy-duty extruded aluminum hinge system, polyurethane rollers with sealed roller bearings, no visible mounting hardware, and durable powder-coated steel side column covers on the direct drive model. A new Advanced Light Curtain Safety System has been added as a standard feature to the direct drive model. The light curtain is mounted within the door's travel path and registers activity up to a height of 6 feet, 6 inches from the doorway threshold. Tinted LEXAN shatterproof vision panels are also available.
Sandler Chair's Varya
Furnishings
Sandler's Varya collection includes chairs, armchairs, barstools and counter stools in a range of metal and wooden bases. The line is made with a propylene shell reinforced with glass fiber. It is available in 12 matte finishes with the option to add a seat panel, which can be upholstered. Base options include sled, swivel and spoke, finished with a choice of polished chrome or epoxy paint. Some base styles are stackable.
Shelby Williams' J83 Table Bases
Furnishings
The J83 is a fully welded steel table base that supports stone tabletops. It's available in standard, wheelchair, counter and cocktail heights. The bases are available in chrome, satin chrome, powder coat, brass, satin brass, bronze, satin bronze, antique bronze, and antique copper finishes with several color options.
Taken Barstool's Ballard Roman
Furnishings
Ballard Roman are hand-cast aluminum alloy pedestal-style barstools that bolt to the floor. At 14 pounds, the stools weight one-third what cast iron would, per the manufacturer. Seat heights are available from 18 to 30 inches. The base comes in seven standard colors, but customization is available. Seats are offered in Golden Oak, Fruitwood and Dark Walnut.
Tala's Voronoi III Bulb
Furnishings
At 16 inches by 10 inches, the Voronoi III is a large sculptural LED bulb that can be used alone or in clusters. It delivers 220 lumens at a CRI of 95 in a mouth-blown glass body designed to evoke an object carved by nature. It features a custom-built LED filament that curves around a central column, creating a light that is reflected and refracted within the bulb.
Beaufurn's Cone Collection
Furnishings
At once retro and contemporary, the Cone Collection includes a table base and matching stool. The cone-shaped steel base comes in both dining (29-inch) and bar (42-inch) heights and in brushed nickel or matte black finishes. Accompanying tabletops, up to 36 inches in diameter, are available. The stool sports a footring. The pictured stool is 17 inches in diameter and 19.5 inches tall.
Creative Displays & Designs Inc.'s Artificial Boxwoods
Furnishings
Artificial boxwood hedges, topiaries and structures-are-UV resistant and made to withstand hot and cold weather conditions. Boxwood frames and inserts feature outdoor treated plywood construction. Fully customizable, artificial boxwoods come in numerous sizes and configurations, from traditional hedges and balls to "living" walls.