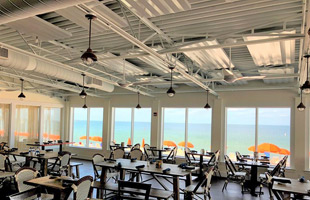 Keep the Buzz, Kill the Noise
You want your restaurant to have a good buzz, but not to be so loud as to turn off customers. Eckel acoustic panels are the answer. Our easy-to install, maintenance-free panels absorb the excess noise that can annoy some dining clients and leave your establishment with a lively, but comfortable, hum. Available in custom sizes and colors.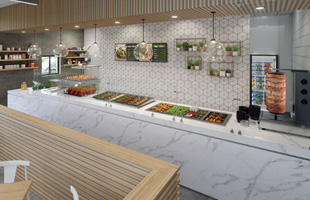 UD Wall Makes Front-Serve Counters Easy
UD-Wall from LTI is flexibility made easy – and affordable. This front-serving counter is made of heavy-duty stainless-steel sections and built with cutouts in the chaseway to accommodate any type of utility connections, from water lines to data cables. And future upgrades or changes are a breeze!
Warmth and Sophistication Cubed
Looking to take the warmth and sophistication of wood to the next level? WoodWorks® ACGI ceilings can help elevate your vision with the beauty of natural wood. Throw in an array of perforations, finishes, and wood veneer species, and you're sure to create a design-forward interior.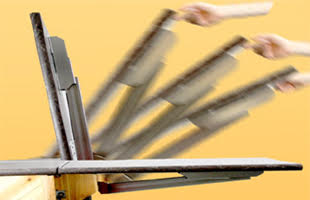 The Ultimate Pass Through Countertop Solution!
Using motion control engineering and Vectis Technology, the Lift Gate Assistant makes lifting heavy tables or counters easy, safe, and convenient. The Lift Gate Assistant can make your bar both functional and fancy with a flip-up bar counter. Save your employees the hassle of wrestling with a heavy countertop and leave a lasting impression on your customers.
Click here to subscribe to more e-newsletters!
You received this e-mail as a subscriber to restaurant development + design or one of its e-newsletters.

Please direct advertising questions to:
Maureen Slocum, Publisher.

Subscription Support:
630-739-0900 (ext. 53) or e-mail Julie Pesek