Warmth and Sophistication Cubed
Looking to take the warmth and sophistication of wood to the next level? WoodWorks® ACGI ceilings can help elevate your vision with the beauty of natural wood. Throw in an array of perforations, finishes, and wood veneer species, and you're sure to create a design-forward interior.

QuickSwitch Hot/Cold Convertible Shelves Offer Versatility
LTI's Two-tier QuickSwitch Ceran Glass Display allows you to beautifully showcase exciting menu choices your way. Each tier offers a ceramic surface and individual controls that give operators the ability to display more items and change from hot-to-cold in under an hour with the flip of a switch.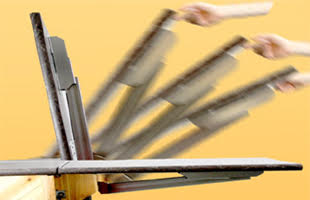 The Ultimate Pass Through Countertop Solution!
Using motion control engineering and Vectis Technology, the Lift Gate Assistant makes lifting heavy tables or counters easy, safe, and convenient. The Lift Gate Assistant can make your bar both functional and fancy with a flip-up bar counter. Save your employees the hassle of wrestling with a heavy countertop and leave a lasting impression on your customers.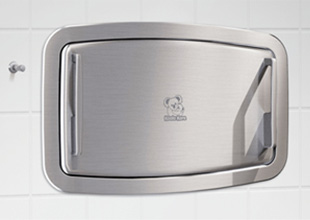 Baby Changing Stations for Design-Driven Restaurants
The Koala Kare KB300 platform of baby changing stations features innovative product design and eye-catching aesthetics. With 18 all-new changing stations varying in color and finish, the KB300 platform offers the options you need to realize the design intent of your restaurant.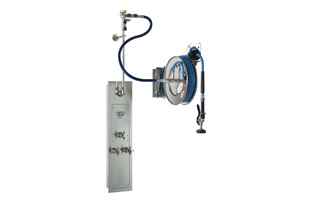 Make Hose Reel installations Simple
The EasyInstall Hose Reel Cabinet from T&S Brass is designed to provide a clean, neat appearance no matter the circumstances. Offering all necessary components to properly install the cabinet either recessed or exposed, this design ensures a smooth, streamlined installation in any situation.
You Dream It. We Build It
Micro Matic custom draft towers are crafted to fit any bar, restaurant, or venue. Whether you need 100 faucets, or a one-off concept, our team of experienced fabricators and engineers can build it. We work with you throughout the entire process to ensure your tower not only looks great but pours excellent too! With the industry's best turnaround on customs, we are ready to build you the tower of your dreams.

Click here to subscribe to more e-newsletters!
You received this e-mail as a subscriber to restaurant development + design or one of its e-newsletters.

Please direct advertising questions to:
Maureen Slocum, Publisher.

Subscription Support:
630-739-0900 (ext. 53) or e-mail Julie Pesek