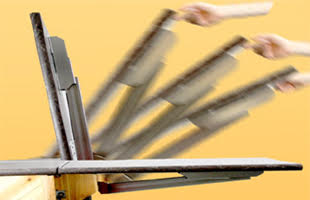 The Ultimate Pass Through Countertop Solution!
Using motion control engineering and Vectis Technology, the Lift Gate Assistant makes lifting heavy tables or counters easy, safe, and convenient. The Lift Gate Assistant can make your bar both functional and fancy with a flip-up bar counter. Save your employees the hassle of wrestling with a heavy countertop and leave a lasting impression on your customers.
You Dream It. We Build It
Micro Matic custom draft towers are crafted to fit any bar, restaurant, or venue. Whether you need 100 faucets, or a one-off concept, our team of experienced fabricators and engineers can build it. We work with you throughout the entire process to ensure your tower not only looks great but pours excellent too! With the industry's best turnaround on customs, we are ready to build you the tower of your dreams.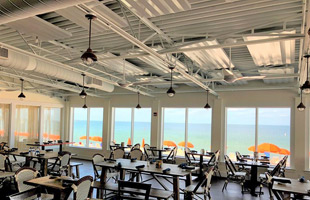 Keep the Buzz, Kill the Noise
You want your restaurant to have a good buzz, but not to be so loud as to turn off customers. Eckel acoustic panels are the answer. Our easy-to install, maintenance-free panels absorb the excess noise that can annoy some dining clients and leave your establishment with a lively, but comfortable, hum. Available in custom sizes and colors.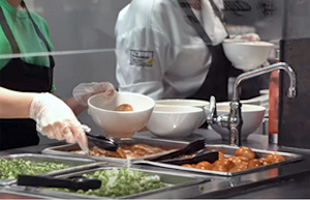 QuickSwitch Serves Up Hot/Cold/Frozen Side by Side
Is it time to make the switch? LTI's QuickSwitch serving technology is the industry gold standard in quality and versatility. Each well is independently controlled to serve hot, cold and frozen items — side by side. Switch between temperatures in less than an hour for complete menu flexibility!
Rinse better with UltraRinse
Rinse faster and more effectively with UltraRinse, an innovative new product from T&S Brass. A patented, easy-to-use swing nozzle that retrofits to any T&S faucet, UltraRinse can help operators boost food safety, lower labor time and conserve water with its unique angled fan spray tips.
Virginia Tech Common Room, Blacksburg, VA
Need Large Custom Fixtures delivered to you with shorter lead times? MRL specializes in Domestic manufacturing of custom large scaled Ceiling Fixtures for your next Restaurant, Resort or Hotel Project.
Click here to subscribe to more e-newsletters!
You received this e-mail as a subscriber to restaurant development + design or one of its e-newsletters.

Please direct advertising questions to:
Maureen Slocum, Publisher.

Subscription Support:
630-739-0900 (ext. 53) or e-mail Julie Pesek