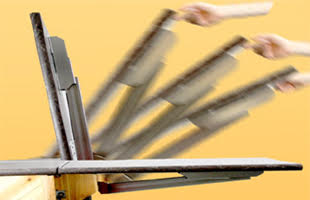 The Ultimate Pass Through Countertop Solution!
Using motion control engineering and Vectis Technology, the Lift Gate Assistant makes lifting heavy tables or counters easy, safe, and convenient. The Lift Gate Assistant can make your bar both functional and fancy with a flip-up bar counter. Save your employees the hassle of wrestling with a heavy countertop and leave a lasting impression on your customers.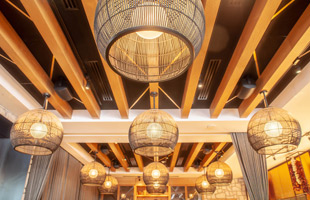 Custom Manufactured Ceiling Fixtures
This custom fixture produced for Dean's Italian Steakhouse located in the JW Marriott, Charlotte, NC is made out of woven rattan and painted in a gradient from Ombre to Black Color. It uses a dimmable 10 watt LED A19 Bulb.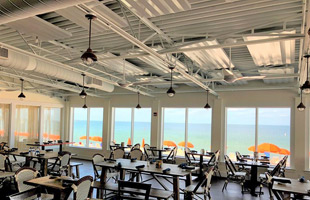 Keep the Buzz, Kill the Noise
You want your restaurant to have a good buzz, but not to be so loud as to turn off customers. Eckel acoustic panels are the answer. Our easy-to install, maintenance-free panels absorb the excess noise that can annoy some dining clients and leave your establishment with a lively, but comfortable, hum. Available in custom sizes and colors.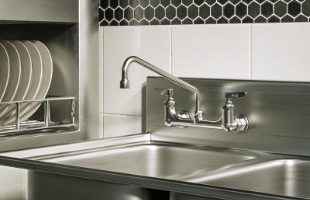 EverSteel from T&S: Built to Impress
The new EverSteel line from T&S Brass is crafted from heavy-duty, lead-free, premium stainless steel, designed to meet global certification requirements. With superior-grade, easy-to-clean stainless and unparalleled build quality, T&S' EverSteel line is in a class by itself.
QuickSwitch Hot/Cold Convertible Shelves Offer Versatility
Beautifully showcase a variety of hot and cold menu choices with LTI's Two-tier QuickSwitch Ceran Glass Display. Each tier offers a ceramic surface and individual controls that give operators the ability to display more items and change from hot-to-cold in under an hour with the flip of a switch.
Ronda 2.0, Re-Designing Perfection
It is a challenge to re-design perfection. Nonetheless, our Italian designers have taken the original Ronda, created in 1997, and perfected it to the Ronda 2.0. The innovative one-piece design for the seat and back follows the curves of the body to amplify support and comfort. A newly designed mesh makes this collection practical and strong, yet lightweight enough to stack. Made using the same patented e-coated steel process as the original, Ronda 2.0 is durable and perfect for any patio. This collection consists of a sidechair, armchair and barstool.
Click here to subscribe to more e-newsletters!
You received this e-mail as a subscriber to restaurant development + design or one of its e-newsletters.

Please direct advertising questions to:
Maureen Slocum, Publisher.

Subscription Support:
630-739-0900 (ext. 53) or e-mail Julie Pesek