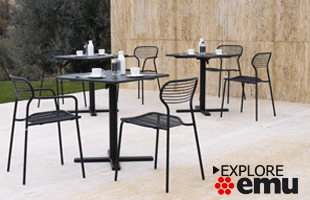 What About an Italian Spritz with Apero?
Apero takes the traditional German wooden chair and skillfully gives it a contemporary look. EMU's know-how of working with metal makes the tubular metal seat and back appear light and airy resulting in a fine, smooth silhouette. Light between the horizontal and vertical lines playfully reflects an unusual pattern of squares. Its minimal, graphic, multi-purpose design discreetly adapts to any type of environment and style.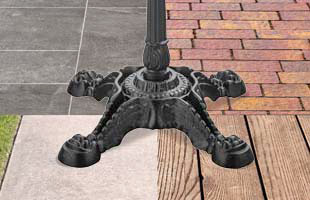 Perfectly Stable. Always Stylish
Even the most stylish tables lose their charm the minute they wobble. Eliminate table wobbles with FLAT® Table Bases. Available in a variety of styles and colors, FLAT Table Bases can stabilize no matter the floor type or surface and align your tables while looking great virtually anywhere.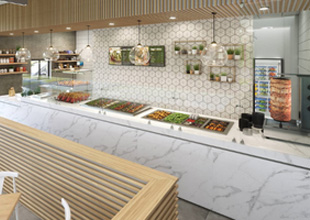 UD Wall Makes Front-Serve Counters Easy
UD-Wall from LTI is a utility-distribution wall made of heavy-duty stainless steel sections and built with cutouts in the chaseway to accommodate utility connections. Factory engineered for consistency, UD-Wall saves installation time and eliminates the possibility of custom design and build issues.
Take Your Next Design to the MAX
Our latest innovation is MirroFlex™ MAX, a set of deeply textured wall panels that offer our boldest, 3D patterns to date. With six contemporary designs and five finishes, it allows you to create a unique look for any space. MAX is also lightweight and easy to install. Promo code MAX22 to receive a brochure.
Subscribe to more e-newsletters!
You received this e-mail as a subscriber to restaurant development + design or one of its e-newsletters.

Please direct advertising questions to:
Kathy Langlois, Vice President.

Subscription Support:
630-739-0900 (ext. 53) or e-mail Julie Pesek