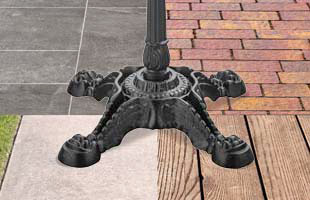 Perfectly Stable. Always Stylish
Even the most stylish tables lose their charm the minute they wobble. Eliminate table wobbles with FLAT® Table Bases. Available in a variety of styles and colors, FLAT Table Bases can stabilize no matter the floor type or surface and align your tables while looking great virtually anywhere.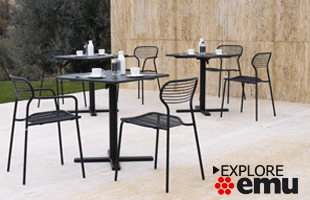 What About an Italian Spritz with Apero?
Apero takes the traditional, German, wooden chair and skillfully gives it a contemporary look. EMU's know-how of working with metal makes the tubular metal seat and back appear light and airy resulting in a fine, smooth silhouette. Light between the horizontal and vertical lines playfully reflects an unusual pattern of squares. Its minimal, graphic, multi-purpose design discreetly adapts to any type of environment and style.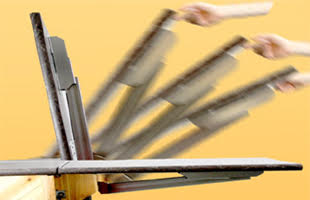 The Ultimate Pass Through Countertop Solution!
Using motion control engineering and Vectis Technology, the Lift Gate Assistant makes lifting heavy tables or counters easy, safe, and convenient. The Lift Gate Assistant can make your bar both functional and fancy with a flip-up bar counter. Save your employees the hassle of wrestling with a heavy countertop and leave a lasting impression on your customers.
Experience Exceptional Shade
Set the right tone to create an exceptional environment that reflects your brand and provides guests with comforting shade while dining outdoors. Pictured above is Frankford's Monterey, available in seven attractive frame finishes. Its fiberglass ribs offer unmatched strength & flexibility, ensuring this frame will withstand the rigors of everyday use in a bustling outdoor setting.

Subscribe to more e-newsletters!
You received this e-mail as a subscriber to restaurant development + design or one of its e-newsletters.

Please direct advertising questions to:
Kathy Langlois, Vice President.

Subscription Support:
630-739-0900 (ext. 53) or e-mail Julie Pesek