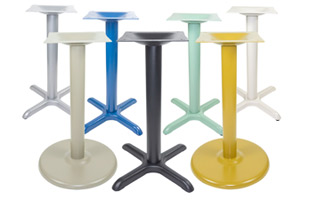 Are You Ready to Expand Your Color Options?
We understand every hospitality space is unique. PMI uses the Cardinal® color spectrum, a custom color powder coating process for table base offerings:
Stamped Steel
Aluminum
Positano Outdoor Table Bases
The PMI customer service team is readily available to assist with selecting a custom color for the appropriate table base to complement any design space, bringing people together.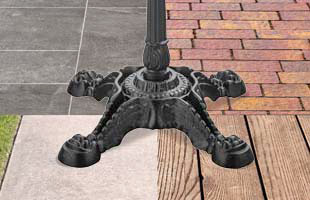 Perfectly Stable. Always Stylish.
Even the most stylish tables lose their charm the minute they wobble. Eliminate table wobbles with FLAT® Table Bases. Available in a variety of styles and colors, FLAT Table Bases can stabilize no matter the floor type or surface and align your tables while looking great virtually anywhere.

Easy cleaning with T&S hose reel systems
Making kitchen cleaning easy with hose reel systems from T&S Brass. More efficient and safer than hoses or mops, T&S hose reels are highly customizable with choices of material, hose length and diameter, reel type, spray valve, and mounting brackets. Complete hose reel systems deliver every component needed for code-compliant installation in one box.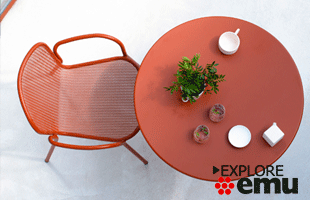 Ronda 2.0, Re-Designing Perfection
It is a challenge to re-design perfection. Nonetheless, our designers have taken the original Ronda, created in 1997, and perfected it to the Ronda 2.0. A newly designed mesh makes this collection practical and strong, yet lightweight enough to stack. Made using the same e-coated steel process as the original, Ronda 2.0 is durable and perfect for any patio.
Subscribe to more e-newsletters!
You received this e-mail as a subscriber to restaurant development + design or one of its e-newsletters.

Please direct advertising questions to:
Kathy Langlois, Vice President.

Subscription Support:
630-739-0900 (ext. 53) or e-mail Julie Pesek