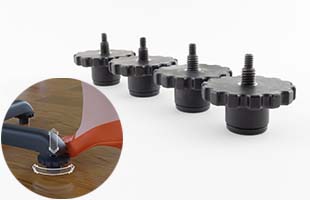 It's Time to Level Up!
Are you leveling your tables with coasters and napkins? The patented PronToe™ is a game-changing new convenient and maintenance-free solution to level your table bases by simply using your foot. The leveler was designed with an adjustment range of 11mm to compensate for any uneven surfaces and a nylon patch to prevent the PronToe™ from falling out of the base.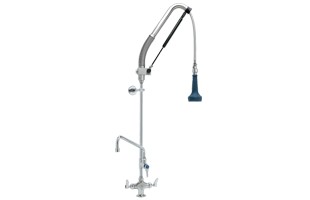 Revolutionize Rinsing with New T&S DuraPull
High volume meets high performance with the new T&S Brass DuraPull. Innovative pull-down operation reduces user fatigue and saves water by eliminating the traditional spray valve handle and hold-down ring. T&S DuraPull's premium design is ideal for open kitchens, and its heavy-duty construction, backed by an industry-leading 7-year warranty, easily supports the busiest operations.
TASTY SOLUTIONS FOR HEALTHY SPACES
Designing for a new normal means selecting from the broadest menu of sustainable solutions that look beautiful, control noise, and help to contain, clean, and protect your space – products that meet CDC criteria for cleaning and disinfecting, neutralize harmful pathogens in the air, and increase the effectiveness of in-ceiling air filtration and purification systems.

Powerful, Space-Saving Heater!
The DGR wall-mounted natural gas heater quickly heats a 16' x 16' area to keep outdoor spaces comfortable. At 25-1/2" wide, the DGR mounts safely and discreetly - out of reach and without interfering with furniture placement or foot traffic.

Click here to subscribe to more e-newsletters!
You received this e-mail as a subscriber to restaurant development + design or one of its e-newsletters.

Please direct advertising questions to:
Kathy Langlois, Vice President.

Subscription Support:
630-739-0900 (ext. 53) or e-mail Julie Pesek