ATI Decorative Laminates Offers COVID Solutions
To help restaurants meet COVID guidelines, ATI now offers the Deco-Defender. With a translucent, decorative FRP panel as an insert into a framed aluminum system, it provides a stylish accent piece that helps protect against the spread of COVID-19. Lightweight and easy to move, it is available in two sizes with stock or custom (as seen above) designs.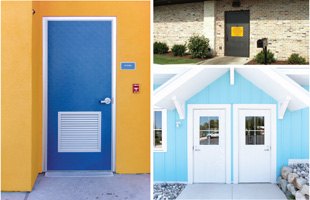 Back-Of-House Door Solutions
When toughness matters, look no further than our FRP/aluminum hybrid doors. These doors never rust, rot, dent, or scratch and are easily cleaned. They are designed for high use and high abuse, are available in various finish textures and numerous colors, and are backed by a 10-year warranty.

Perlick Products Help Your Customers Gather Safely
Perlick's new mobile products designed to help establishments follow strict social distancing and health guidelines while still turning a profit are available NOW. Mobile bars, refrigerators and dispensing systems are all on wheels for design and operational flexibility, indoors or out. Learn more about how Perlick mobile options can help your staff and customers gather safely here.

Metal Is Always On The Menu
Chemetal is a great way to bring the luxury, energy and style of metal into dining spaces. It applies like a laminate and features thin and softer, easier to cut metals and HPL laminates. Ideal for wall panels, columns, backsplashes, inlays and here, #931 Brushed Golden Aluminum, as a bar front. Over 200 designs.
More at chemetal.com

Designer Protective Guards
Protective Guards with style! Each of these designs are fully customizable including Dimensions and Finishes to meet your needs. Enhance customization even further with your brand logo or text. Order just 1 piece to get started!

You received this e-mail as a subscriber to restaurant development + design or one of its e-newsletters.

Please direct advertising questions to:
Kathy Langlois, Vice President.

Subscription Support:
630-739-0900 (ext. 53) or e-mail Julie Pesek