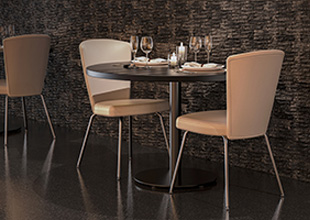 MTS Seating's Elise Series Crafted for Comfort
The Elise Series offers your patrons unmatched comfort. Featuring a contemporary trapezoid shaped back and our COMFORTflex® seating system, it is crafted to ensure long-term performance under heavy use. Elise comes in a variety of styles — both chairs and barstools, rounded tapered maple legs—with steel frame understructures—or multiple metal leg options.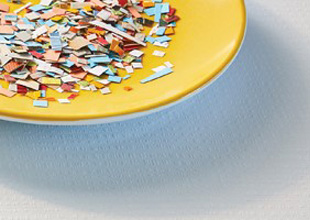 New Laminates from InteriorArts
Put it in neutral and glide. InteriorArts introduces Fresh Data, 20 new laminates featuring an international aesthetic, luxurious textures and sophisticated neutrals. These designs feature subtle details like color flecking and distinctive linear and cross hatching as well as popular dark colors. 4' x 10' size.
More at ialaminates.com
Lightweight Ceiling Solution, Beautiful New Heights
MirroFlex Lite combines many of ATI's MirroFlex Lay-In Ceiling Tile patterns with 18 popular finishes into one sleek .013" thick package. These tiles are ultra-lightweight, ultra-thin, and ultra-flexible. Some finishes are available as a Drop-Out Ceiling Tile, designed to fall out of 15/16" grid systems when exposed to heat from developing fires.
Back-Of-House Door Solutions
When toughness matters, look no further than our FRP/aluminum hybrid doors. These doors never rust, rot, dent, or scratch and are easily cleaned. They are designed for high use and high abuse, are available in various finish textures and numerous colors, and are backed by a 10-year warranty.

3D Foam Has Retail Roaring
3D foam sculpted, fully customizable displays engage patrons on a different dimension. Perfect as an eye-catching standalone prop or an intriguing element of your wall décor, 3D sculpting will redefine the immersive experience for your customers.
Lighting With Panache
Star point design metal pendant in 3 sizes to use individually or together. Perfect over a dining table or bar or scale up to create a dramatic light fixture anywhere. Choose from standard sizes and finishes or customize upon request.

You received this e-mail as a subscriber to restaurant development + design or one of its e-newsletters.

Please direct advertising questions to:
Maureen Slocum, Publisher.

Subscription Support:
630-739-0900 (ext. 53) or e-mail Julie Pesek