Countertops: Let's Take This Outside
Create amazing outdoor surfaces with Crossville Porcelain Countertops! These products offer porcelain's strength and style on countertops for exterior applications. No stains, yellowing, or cracking — Crossville's 12mm-thick porcelain slabs are engineered to perform long-term outside. Learn more now!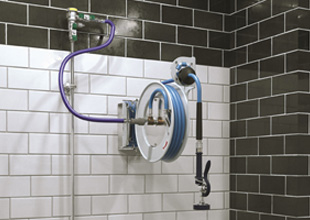 Easy Cleaning With T&S Hose Reel Systems
Making kitchen cleaning easy with hose reel systems from T&S Brass. More efficient and safer than traditional buckets and mops, hose reel systems also simplify installation by providing all the necessary components in one box. T&S hose reels are extensively customizable with choices of material, hose length and diameter, reel type, spray valve, and mounting brackets.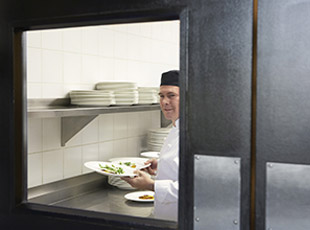 Back-Of-House Door Solutions
When toughness matters, look no further than our FRP/aluminum hybrid doors. These doors never rust, rot, dent, or scratch and are easily cleaned. They are designed for high use and high abuse, are available in various finish textures and numerous colors, and are backed by a 10-year warranty.

Walk Your Way Into Great Laminate
InteriorArts is a curated collection of HPL design laminates with an emphasis on unique looks and impressive textures. Our materials have the look and feel of trending wood looks and popular distressed and aged surfaces, all at laminate prices. Here: New York Fashion Week models walk on a #2005 CEM Cracked Cement runway. More at ialaminates.com
Indulge In ATI's Sweetest Collection Ever
ATI's latest Frosted Fusion Collection offers over 20 exclusive designs combined with a variety of easy-to-install, 4' x 8' clear substrates to create the look of frosted glass. No matter how Frosted Fusion is used to divide the space, the collection's visual weightlessness doesn't divide attention. It's the icing on the cake of any room design!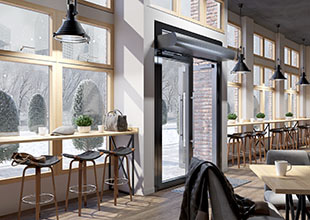 When The Door Is Open
Berner Air Curtains: maintain comfort and save energy.
Have seating by the entrance? Supplemental heating options available.
Custom Colors available. Made in U.S.A.
You received this e-mail as a subscriber to restaurant development + design or one of its e-newsletters.

Please direct advertising questions to:
Maureen Slocum, Publisher.

Subscription Support:
630-739-0900 (ext. 53) or e-mail Julie Pesek