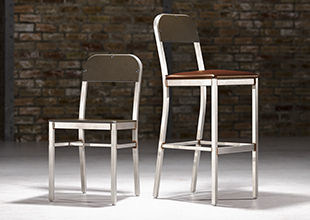 Order Up: Contemporary Industrial Is A Chef's Choice
Another pair of MTS' restaurant-preferred chairs and barstools, the Contemporary Industrial line unlocks a premium look and feel at a price that's pleasing to any palate. Plus, the choice between wood or upholstered seat, and wide selection of standard wood stains, powdercoat finishes and upholstery options, make it easy to match the mood to the menu.
Countertops: Let's Take This Outside
Create amazing outdoor surfaces with Crossville Porcelain Countertops! These products offer porcelain's strength and style on countertops for exterior applications. No stains, yellowing, or cracking — Crossville's 12mm-thick porcelain slabs are engineered to perform long-term outside. Learn more now!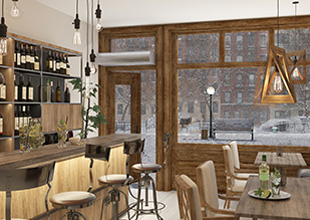 When The Door Is Open
Berner Air Curtains: maintain comfort and save energy. Have seating by the entrance? Supplemental heating options available.
Custom Colors available. Made in U.S.A.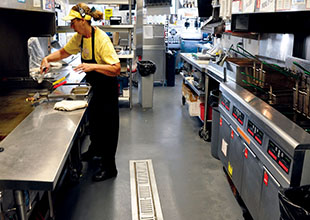 Go Ahead. Walk All Over Us.
Protect-All flooring is a slip-resistant vinyl flooring manufactured from over 90% pre-consumer recycled content that provides slip, stain and fire protection for areas exposed to water, heavy traffic patterns and extreme weight loads.
Protect-All helps reduce slips and falls, and is also resistant to mildew and other bacterial growth.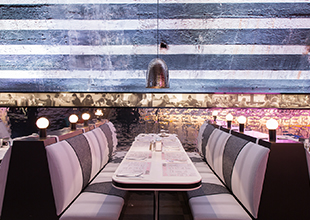 Let's Crank Some Metal
Introduce the luxury and energy of Chemetal into your restaurant designs. Ideal for wall panels, columns, backsplashes and inlays. Here, custom embossed Polished Aluminum (#901) half wall at The Diner, a pop-up restaurant at Salone in Milan. Over 200 designs.
More at chemetal.com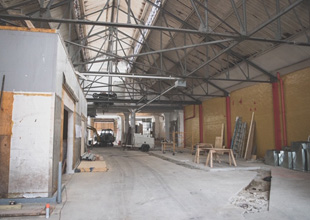 Flooring Systems for Food and Beverage Manufacturing
Tek-Crete urethane concrete is an advanced flooring system formulated to meet the critical needs of commercial and institutional kitchens. The anti-microbial and slip-resistant surface is ideal for kitchen and food service.This durable flooring system withstands exposure to harsh cleaning chemicals, pressure washing and steam cleaning. As a result, it is perfect for environments where cleanliness and safety are high priorities.

You received this e-mail as a subscriber to restaurant development + design or one of its e-newsletters.

Please direct advertising questions to:
Maureen Slocum, Publisher.

Subscription Support:
630-739-0900 (ext. 53) or e-mail Julie Pesek