Billow Square Lounge Chair Model SG110-8540
MTS Seating's Billow Square Lounge Chair, designed in collaboration with Stacy Garcia, features an upholstered square shell. A welded, steel sled base frame is available in powdercoat or optional plated finishes and is backed by a 5-year structural warranty.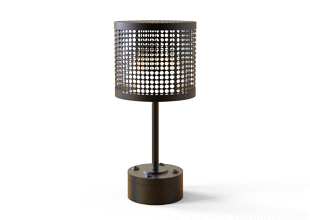 Light Up Your Restaurant Tables
Wireless, battery powered, rechargeable restaurant table lamps are the way to go. Each lamp comes with an integrated battery and a 5W LED module. Available in a variety of designs and finishes to choose from.
Chemetal Is Moving. Moving To Mood.
Introducing Moving to Mood, 7 new metal designs for interior spaces. It's the absence of pattern. And the presence of mood. Slightly reflective surfaces with a subtle sheen and metal aliveness are manifested in these semiotic designs, representing historical aged metals. All on relatively easy to fabricate aluminum and HPL. Standard sheet sizes.

Grease Interceptors Engineered For Maximum Performance
Too much grease passes through a large concrete grease interceptor. Trapzilla99 series is designed to capture 99% of grease. Our NEW model, the TZ-525, holds 525 lbs of grease at 50 GPM. Made out of a lightweight, durable plastic, this compact unit is easy to install and guaranteed to last.

ATI's Boldest MirroFlex™ Release Ever
Flex your design instincts with the latest additions to ATI's MirroFlex product line – 5 new patterns and 1 new finish. The bold new patterns include: the classic, tile-inspired Versa-Tile and Vista, earthy and organic Safari, and modern, geometric Inferno and Glacier. The newest MirroFlex finish, Distressed White, is a light weathered wood grain.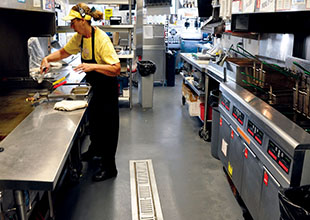 Go Ahead. Walk All Over Us.
Protect-All flooring is a slip-resistant vinyl flooring manufactured from over 90% pre-consumer recycled content that provides slip, stain and fire protection for areas exposed to water, heavy traffic patterns and extreme weight loads.
Protect-All helps reduce slips and falls, and is also resistant to mildew and other bacterial growth.

You received this e-mail as a subscriber to restaurant development + design or one of its e-newsletters.

Please direct advertising questions to:
Maureen Slocum, Publisher.

Subscription Support:
630-739-0900 (ext. 53) or e-mail Julie Pesek