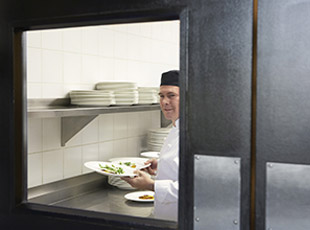 Back-Of-House Door Solutions
When toughness matters, look no further than our FRP/aluminum hybrid doors. These doors never rust, rot, dent, or scratch and are easily cleaned. They are designed for high use and high abuse, are available in various finish textures and numerous colors, and are backed by a 10-year warranty.

Tufgrain Faux Woodgrain Dining Chairs
Shelby Williams Tufgrain faux wood aluminum dining chairs offer a variety of stylish seating options. Tufgrain chairs are lighter than steel or wood making them easy to handle. Our aluminum frames last longer and resist dings better than wood. With no joints to tighten, Tufgrain seating requires less upkeep than wood. Learn more at shelbywilliams.com.
Chemetal Is Moving. Moving To Mood.
Introducing Moving to Mood, 7 new metal designs for interior spaces. It's the absence of pattern. And the presence of mood. Slightly reflective surfaces with a subtle sheen and metal aliveness are manifested in these semiotic designs, representing historical aged metals. All on relatively easy to fabricate aluminum and HPL. Standard sheet sizes.

When The Door Is Open
When it's open bar, Berner Air Curtains: maintain comfort, save energy and keep out flying insects. Custom Colors available. Made in U.S.A.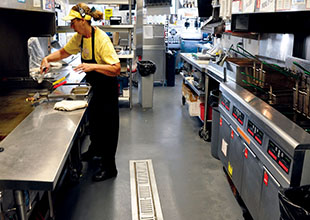 Go Ahead. Walk All Over Us.
Protect-All flooring is a slip-resistant vinyl flooring manufactured from over 90% pre-consumer recycled content that provides slip, stain and fire protection for areas exposed to water, heavy traffic patterns and extreme weight loads.
Protect-All helps reduce slips and falls, and is also resistant to mildew and other bacterial growth.

T&S Introduces Revolutionary Take On Pre-Rinse Units
The T&S Brass DuraPull pre-rinse unit with pull-down activation is an entirely new approach to pre-rinse units, offering efficiency and durability for high-volume kitchens. The unique function reduces user fatigue and eliminates excess water waste. DuraPull's premium design and heavy-duty construction is backed by an industry-leading 7-year warranty and available in more than 25 configurations.

You received this e-mail as a subscriber to restaurant development + design or one of its e-newsletters.

Please direct advertising questions to:
Maureen Slocum, Publisher.

Subscription Support:
630-739-0900 (ext. 53) or e-mail Julie Pesek