Metal Designs Baked Fresh Daily
Chemetal is a massive collection of metal designs and laminates that brings style and energy to restaurant and bar spaces everywhere. It's great as a counter front, accent strips, backsplash and anywhere restaurant designers want to add the panache and patina of metal. Here: Brushed Light Brass Aluminum (#904).
Visit chemetal.com to see them all.

When The Door Is Open
This summer, keep walk-in cooler temperatures consistent and protect food safety, as people go in and out. No strips to bump into, clean or replace. Interior temperatures maintained. Compressor run-times reduced.
When the door is open, Berner air curtains.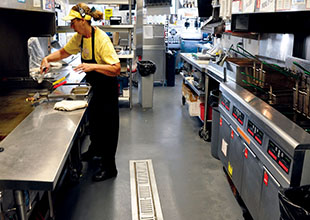 Go Ahead. Walk All Over Us.
Protect-All flooring is a slip-resistant vinyl flooring manufactured from over 90% pre-consumer recycled content that provides slip, stain and fire protection for areas exposed to water, heavy traffic patterns and extreme weight loads.
Protect-All helps reduce slips and falls, and is also resistant to mildew and other bacterial growth.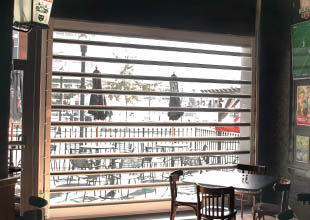 Transform The Indoor-Outdoor Experience
Create unique ambiance and visual appeal within dining, hospitality and commercial settings. The stylish Rytec Spiral VP® commercial door combines attractive aesthetics with performance and security. Featuring sleek styling, quiet functioning and a compact profile, it provides a 'moving façade' to create ambience and openness to patios or other exterior spaces.
Visit Booth #9027 at NRA Show 2019 and rytecdoors.com.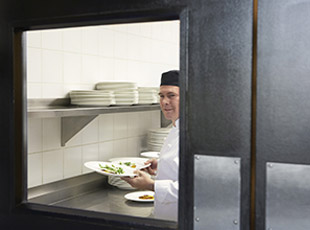 Back-Of-House Door Solutions
When toughness matters, look no further than our FRP/aluminum hybrid doors. These doors never rust, rot, dent, or scratch and are easily cleaned. They are designed for high use and high abuse, are available in various finish textures and numerous colors, and are backed by a 10-year warranty.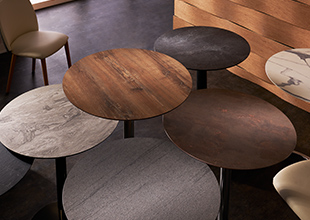 Urban Table Top Collection By Beaufurn
Made of all weather HPL with thermosetting resins, these beautiful tops have the look of wood grain or high-end stone finishes. Suitable for outdoor or indoor use, they are durable and resistant to harsh weather conditions. Available in a variety of shapes and sizes, they can be sized to fit your needs. Perfect for cafés, restaurants, food courts, and bars.

You received this e-mail as a subscriber to restaurant development + design or one of its e-newsletters.

Please direct advertising questions to:
Maureen Slocum, Publisher.

Subscription Support:
630-739-0900 (ext. 53) or e-mail Julie Pesek