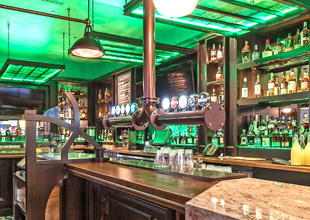 Custom Draft Towers
Promote what's on tap with a signature tower on the bar top: Beers, Wines, Cocktails, Cold Brew Coffee. Draft dispense is the best option when it comes to beverage profitability. Choose from a wide range of finishes including custom powdercoat colors. Complete a design vision with a custom tower.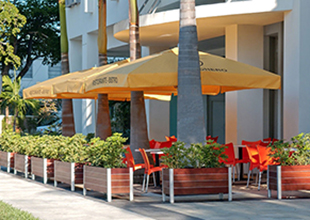 Custom Outdoor Fixtures - Manufacturer Direct
American craftsmen-built planters, bins, valet stands, waiters' stations, screen wall, benches. When you can't find what you want elsewhere or need custom fixtures that will stand the test of time, contact DeepStream Designs for a no obligation design session and quote. Lifetime Structural Warranty.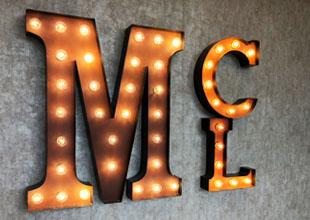 Lighted Marquee Letters
Commercial grade marquee letters made out of 18 gauge steel and manufactured in the USA. Standard size is 36" high and can be wall mounted, ceiling mounted or free standing. Custom sizes, finishes, fonts and shapes are available. Includes vintage LED lighting. If you want words like 'LOVE', 'SMILE', 'PARTY', 'BEER' or any other words and/or numbers, we have got you covered!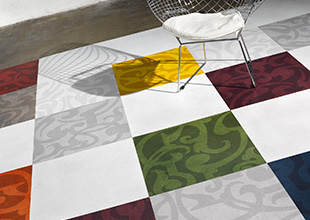 Discover Aspecta One Ornamental LVT Flooring
The new Aspecta One Ornamental LVT flooring collection's overprint designs – Damask, Malta and Masquerade – can be layered randomly on select Aspecta One planks and tiles to create custom looks. Here, the Masquerade Midtown Prism pattern's large medallion-like design translates well in large tile formats.

Go Nuts Over Walnut With Treefrog
Treefrog is a prefinished wood veneer laminate with impressive depth and variation in wood tone. Offering 8 different walnut options plus many other wood species, Treefrog is ideal for vertical use — think walls, fixtures, columns — in restaurant interiors. Plus, Treefrog's unique process offers consistent quality, making it ideal for multi-location installs.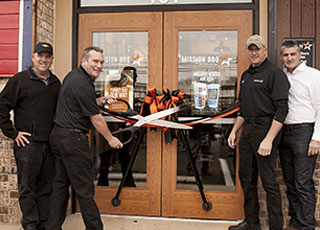 Doors That Brand
Beyond being the beautiful and silent members of your grand opening, our resilient doors and entrances will reinforce your branding to every guest. So, whether you choose our aluminum monumental doors with wood expressions finish (pictured) or some other model, you'll get doors that last and doors that brand.

You received this e-mail as a subscriber to restaurant development + design or one of its e-newsletters.

Please direct advertising questions to:
Maureen Slocum, Publisher.

Subscription Support:
630-739-0900 (ext. 53) or e-mail Julie Pesek