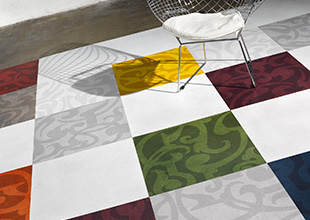 Discover Aspecta One Ornamental LVT Flooring
The new Aspecta One Ornamental LVT flooring collection's overprint designs – Damask, Malta and Masquerade – can be layered randomly on select Aspecta One planks and tiles to create custom looks. Here, the Masquerade Midtown Prism pattern's large medallion-like design translates well in large tile formats.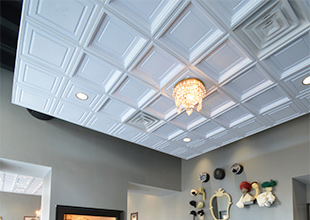 Ceilings Add Flavor To Restaurants
Ceilume has a thermoformed ceiling style and finish to season every room; they add beauty and acoustics in front of house and are FDA and USDA compliant for kitchens. Class A, Greenguard Gold, easy installation and affordability enhance customer experience and show your good taste. (M+A Architects)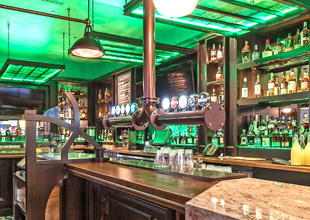 Custom Draft Towers
Promote what's on tap with a signature tower on the bar top: Beers, Wines, Cocktails, Cold Brew Coffee. Draft dispense is the best option when it comes to beverage profitability. Choose from a wide range of finishes including custom powdercoat colors. Complete a design vision with a custom tower.

Communal Tables with Charging Capabilities
Communal tables available with two different base configurations, an "A" frame and an "H" frame in both dining and bar height. Choose from solid Beech or a laminate table top with our Thin Profile Dur-A-Edge®. Easily add charging capabilities with the optional power package. The pre-wired package includes 2 receptacles and with 2 outlets and 2 USB duplex per receptacle. Available in multiple lengths.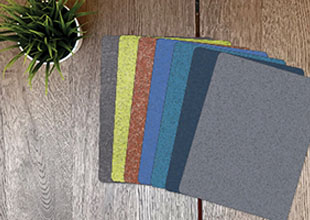 Back-Of-House Safety With Style
Altro's popular safety flooring ranges, Altro Stronghold 30 and Altro Classic 25, have expanded their color palettes to include a mix of seven new design options that are ideal for commercial kitchen applications! Whether the situation calls for lively, vibrant shades or traditional, subtle hues, both of these products provide dependable slip resistance and plenty of comfort underfoot without sacrificing aesthetics.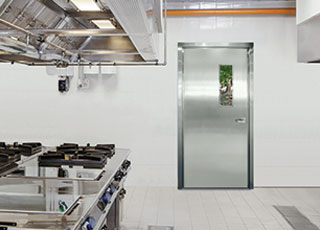 Durable Classic Stainless-Steel Design
Our attractive and durable stainless steel SSD-3S is suited for restaurant and food service applications. Constructed with 16-gauge stainless steel face sheets and welded vertical edges, this low-maintenance and corrosion-resistant model will stand up to frequent washdowns and heavy traffic.

Go Nuts Over Walnut With Treefrog
Treefrog is a prefinished wood veneer laminate with impressive depth and variation in wood tone. Offering 8 different walnut options plus many other wood species, Treefrog is ideal for vertical use - think walls, fixtures, columns- in restaurant interiors. Plus, Treefrog's unique process offers consistent quality, making it ideal for multi-location installs.

Designing For A Decreasing Footprint
Tuesday, October 23 at 1:00 PM Central. From fine dining to fast casual, restaurants are looking to decrease footprints and to blur the line between the front and back of the house. This hour-long webcast will offer real-world examples of how restaurant developers and designers can maximize space in minimalist settings.
Register now for this FREE Webcast.

You received this e-mail as a subscriber to restaurant development + design or one of its e-newsletters.

Please direct advertising questions to:
Maureen Slocum, Publisher.

Subscription Support:
630

-739

-

0900

(ext. 53) or e-mail Julie Pesek