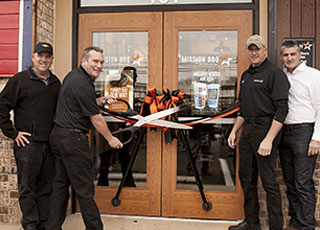 Doors That Brand
Beyond being the beautiful and silent members of your grand opening, our resilient doors and entrances will reinforce your branding to every guest. So, whether you choose our aluminum monumental doors with wood expressions finish (pictured) or some other model, you'll get doors that last and doors that brand.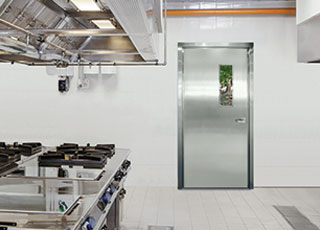 Durable Classic Stainless-Steel Design
Our attractive and durable stainless steel SSD-3S is suited for restaurant and food service applications. Constructed with 16-gauge stainless steel face sheets and welded vertical edges, this low-maintenance and corrosion-resistant model will stand up to frequent washdowns and heavy traffic.

Treefrog Introduces New Prefinished Veneer Laminates
Eminently specifiable, breathtakingly beautiful, and wonderfully consistent, Treefrog presents Treefrog Open, 8 new prefinished wood veneer laminates. Many trending neutrals in oaks and walnuts, ideal for vertical spaces in restaurant design. Plus, Treefrog's unique process offers consistent quality in design spaces of any size.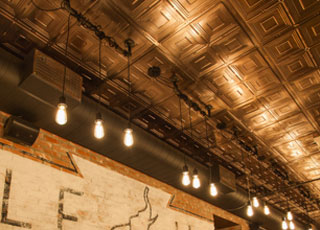 Ceilings Are Toppings For Fine Design
Like sauces that add zest to dishes, Ceilume ceilings are delicious toppings for restaurants. We provide 47 styles in 15 colors and finishes to give your room just the right flavor. The thermoformed panels are FDA compliant, washable, acoustic, and affordable.

Altro Puraguard Wall Protection Two New Colors
Altro Puraguard welcomes Pepper and Barley to its palette! Now with gray and beige options to accompany the standard white, this durable wall protection can fit more kitchen designs. Pepper and Barley come in all of the corresponding accessories and trims, so no need to worry about color matching.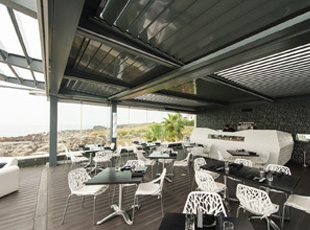 The Bioclimatic Pergola: Dining Al Fresco – In Style, Worry Free
The BIOCLIMATIC pergola by Solisysteme optimizes your seating capacity and keeps your guests comfortable, shaded and dry — no matter what the weather conditions! Automated sensors close the louvers with the first drop of rain, forming its own dedicated gutter system. It also creates refreshing ventilation, temperature and light control. All with the simple touch of a remote.
You received this e-mail as a subscriber to restaurant development + design or one of its e-newsletters.

Please direct advertising questions to:
Maureen Slocum, Publisher.

Subscription Support:
630

-739

-

0900

(ext. 53) or e-mail Julie Pesek