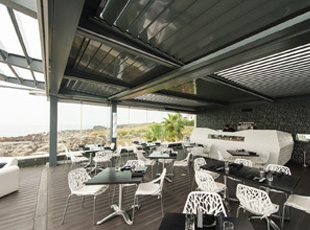 The Bioclimatic Pergola: Dining Al Fresco – In Style, Worry Free
The BIOCLIMATIC pergola by Solisysteme optimizes your seating capacity and keeps your guests comfortable, shaded and dry — no matter what the weather conditions! Automated sensors close the louvers with the first drop of rain, forming its own dedicated gutter system. It also creates refreshing ventilation, temperature and light control. All with the simple touch of a remote.
Altro Puraguard Wall Protection Two New Colors
Altro Puraguard welcomes Pepper and Barley to its palette! Now with gray and beige options to accompany the standard white, this durable wall protection can fit more kitchen designs. Pepper and Barley come in all of the corresponding accessories and trims, so no need to worry about color matching.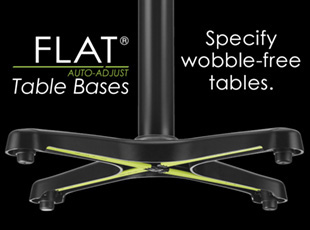 End The Problem Of Wobbly Tables
Table Bases from FLAT Tech stabilize automatically and enable users to seamlessly align tabletops when seating large groups. Indoors or out, on concrete or cobblestones, our Table Bases improve the overall customer experience by preventing the messes that wobbly tables can cause. Learn more at FlatTech.com!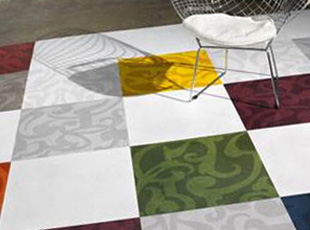 Aspecta One Ornamental LVT
ASPECTA LVT introduces the Aspecta One Ornamental collection. Three overprint designs – Damask, Malta and Masquerade – bring interest and impact to hospitality flooring. The biophilically designed patterns can be layered randomly on select Aspecta One planks and tiles to create custom looks. Visit NeoCon booth #7-10115.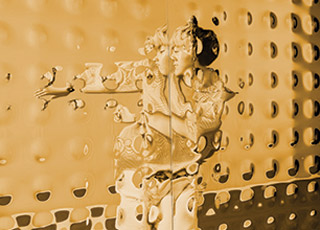 Crank Some Metal With Chemetal
New Glowing Metals from Chemetal offers 36 metal designs and laminates that are ideal for vertical spaces - feature walls, counter fronts and accent pieces and strips. Plus, Chemetal is an affordable and easy way to bring metal into your space- it's fabricated with most woodworking equipment. Here: #943 Polished Bronze Circles. More at chemetal.com.

Dining Counters For Device Charging
Easily add charging capabilities to a space with our pre-wired, powered dining counter. The laminate counter features our Thin Profile Dur-A-Edge® on a 1.5" square tube, powder coated frame. Each receptacle includes 2 outlets and 1 USB duplex. Available in multiple lengths.
Send inquiries to dealersales@plymold.com

You received this e-mail as a subscriber to restaurant development + design or one of its e-newsletters.

Please direct advertising questions to:
Maureen Slocum, Publisher.

Subscription Support:
630-739-0900 (ext. 53) or e-mail Julie Pesek